8 Goals for Africa The Artists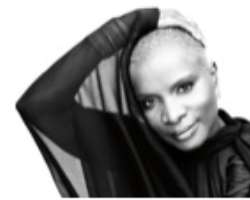 Angélique Kidjo (Benin)
Born and raised in Benin- the authentic melting-pot of traditional cultures and musical styles- Angélique Kidjo's music embraces rhythm & blues, soul music, jazz, and Beninese melodies. Growing up in the port city of Cotonou, raised by parents who honored many forms of creativity, she was exposed to a far-ranging array of music and dance. Today, Grammy Award winning singer, dancer and songwriter Kidjo is a definitive 21stcentury world artist. Her art roves across boundaries, genres and ethnicities, finding the connections that link musical forms from every part of the world, while still bonding closely with her own traditions.
Baaba Maal (Senegal)
Born in the City of Podor, Senegal Baaba Maal sings primarily in Pulaar, the indigenous language of people living in the ancient Senegalese kingdom of Futa Tooro. Together with his group Daande Lenol – 'The Voice of the Race', he produced the hugely popular album 'Wango' which melodically embroidered highly distinctive African sounds, pop and reggae.
Eric Wainaina (Kenya)
Born in Nairobi, Kenya. Defined by his socially conscious messages, Wainaina's notable releases include 'Nchi ya Kitu Kidogo' ('Country of Bribes') and 'Kenya Only' which became Kenya's unofficial song of mourning after a terrorist attack in 1998. Waunaina has begun producing theatrical musicals that use Kenyan folk law as their base.
Jabulani Tsambo (South Africa)
Famously known as Hip Hop Pantsula or HHP, hails from Mafikeng in the NorthWest province. HHP, South Africa's most popular hip-hop talent, is defined by his versatile use of indigenous South African languages, a term referred to as 'Motswako.' HHP believes that artists have the power to change people, communities and the world, a view that he manifests through his pull-no-punches lyrics that speak directly to a broad spectrum of South Africans, young and old.
Hugh Masekela (South Africa)
Born in 1939, Hugh Ramapolo Masekela is an acknowledged master of African jazz. Raised during the height of Apartheid racial tension and hatred, music provided a much needed gateway to a world of beauty. Masekela was part of the cultural insurrection that Sophiatown and the Drum Era spawned in the 1950's. Hugh Masekela is famously known as a South African trumpeter, singer and composer. He has released more than 25 albums to date.



Jimmy Dludlu (South Africa)
Profoundly influential guitarist, Jimmy Dludlu became a major catalyst in the formation of the South African music genre Afro-Jazz. Dludlu graduated from the Jazz Programme at University of Cape Town's College of Music in 1994 and his debut album 'Echoes from the Past' was released in September 1997. His other albums 'Essence of Rhythm', 'Portrait', 'Afrocentric', 'Corners of my Soul' and 'Best of Jimmy Dludlu' showcase his extraordinary talent, his proficiency not only as a guitarist but as an intuitive composer and arranger.
Mingas (Mozambique)
Born in Maputo, Mozambique, Mingas' professional musical career spans three decades. She was a lead singer in the 'Orchestra Marrabenta Star de Mozambique' during their tours of Europe in 1987-88. As part of the group Amoya, Mingas was awarded the coveted accolade of 'Grand Prix Decouvertes 90' at a Gala show in Guinea Conakry. In the late 1990s, Mingas performed alongside Miriam Makeba as a backing vocalist and solo artist during Mama Africa's international tour that spanned four continents.
Oliver Mtukudzi (Zimbabwe)
Internationally celebrated, gifted with a deep, gutsy voice and a talent for writing songs that reflect on the daily life and struggles of ordinary Zimbabweans, Oliver 'tuku' Mtukudzi has released 40 albums, of which 35 were best sellers. Singing in the nation's dominant languages of Shona, Ndebele and English, Mtukudzi's music is a cacophony of pop influences, South African mbaqanga, the vigorous Zimbabwean pop style JIT and the traditional katekwe drumming patterns of his clan.



Yvonne Chaka Chaka (South Africa)
Born in the legendary township of Soweto, Dobsonville during the heart of Apartheid. At the age of 19 Chaka Chaka released the single "I'm in love with a DJ" that rocketed to success selling 35 000 copies. Releasing hit after hit, Chaka Chaka's subsequent award winning albums include "Burning Up", "Sangoma", "Who's The Boss", "Motherland", "Be Proud to be African", "Thank You Mr DJ", "Back on my Feet", "Rhythm of Life", and "Who's got the Power".

Soweto Gospel Choir (South Africa)
The multiple award winning 'Soweto Gospel Choir' is the brain child of, Andrew Kay, David Vigo and Clifford Hocking, Beverly Bryer and David Mulovhedzi and was formed in 2002. Their debut album 'Voices from Heaven' reached the number 1 spot on Billboard's World Music Chart, within three weeks of its US release. The 26 member strong group has performed alongside Diana Ross, Deborah Cox and Danny K, also performing as invited guests for an illustrious audience such as former President Nelson Mandela, Samuel L Jackson, Carlos Santana, Oprah Winfrey, Mary J Blige, Tina Turner, Patti Labelle, Sydney Poitier and Quincy Jones.