ENCYCLICAL TO NUHU RIBADU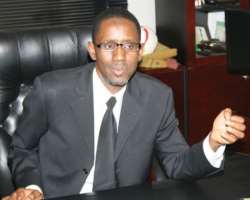 Erstwhile Chairman of Economic and Financial Crimes Commission, Mallam Nuhu Ribadu, came back home from a self-imposed exile last weekend. I have written many articles on Ribadu and my position about him is that his anti–corruption war was selective. In fact, it is my opinion that Ribadu fought Obasanjo's war. This is the only albatross of Ribadu but many Nigerians don't see Ribadu in this light. They believe that despite his shortcomings, his anti-corruption war was a success and he is one Nigerian that can raise his head high any day.
In the latest group are the members of the Civil Society Groups who are rooting for Ribadu to come back home and contribute his quota to the development of Nigeria especially the anti-corruption war. While not disparaging the current efforts of the Waziri-led EFCC in fighting corruption, the Civil Society groups believe that Ribadu would have been more effective though I don't share this view. Yes, Ribadu is effective but the Obasanjo angle has whittled down his achievement in this regard.
Many analysts have argued that the sins of Ribadu are pardonable especially since he fell into the same Obasanjo's trap like others before him. Recent happenings on the national political scene tend to confirm this as Obasanjo is rumoured to have reservations about Ribadu being given any position in Jonathan's government. Ribadu's self-exile is not unconnected with his relationship with Obasanjo. Immediately Obasanjo left power, those who felt Ribadu had been unfair to them but who were in Yar'Adua's government decided to take their own pound of flesh and Ribadu was on the receiving end. There was a case against him by the Code of Conduct Bureau for not declaring his assets. He simply had to leave town. But there was a change of baton again arising from the illness and the eventual death of Ex-President Yar'Adua and Ribadu's succour came so he came back home.
Apart from the fact that the Civil Society groups are rooting for him, the International community is favourably disposed to Ribadu's antecedents while he held forth at the EFCC and they feel that no matter his shortcomings, he is one Nigerian that should be celebrated and his sins should be forgiven. To drive home this point, Ribadu was honoured with a honourary doctorate degree at the Babcock University, Ilishan Remo, and Ogun State for his contributions to the war against corruption. For a Nigerian to be given a second chance is not common, therefore it behooves Ribadu to seize the opportunity to make amends.
Obasanjo once had a similar second chance in 1999 when he was positioned as the President but instead of using it to make restitution, he unleashed unprecedented and unnecessary vengeance on his perceived traducers. Ribadu should know by now that nobody fights an Obasanjo war without regretting it. He should ponder over the fate that befell erstwhile Obasanjo loyalists and those who were close to him like S.M Afolabi, Haruna Elewi, Atiku Abubakar and his late 'friend', Bola Ige. He should also ask questions about what happened to the 5 AD governors in 2003. He should also ponder over why everybody is warning President Jonathan to beware of Obasanjo. Now that Ribadu is back and Nigerians are likely to forgive him his sins and give him another chance, he should be mindful of the company he keeps. Any assignment he may be given next must be carried out fairly, justly and equitably. Most observers assume that Ribadu would have used the period of his self-exile to reflect on past mistakes and learn lessons from them. So given another opportunity, he should do some things differently.
I had cause to disagree with many prominent members of Civil Society Groups including the Nobel Laureate, Professor Wole Soyinka, in my article (Tears for Ribadu? 1 & 2, published in the Daily Independent of January 9 & 16, 2008) when they were opposed to the removal of Ribadu as the Chairman of the EFCC by the Yar'Adua regime. I argued that instead of fighting for an individual, they should rather fight for a strong institution. I added that Ribadu was not the only Nigerian that could fight corruption. This has been confirmed to an extent. Mrs. Waziri and her team are doing a good job. Nobody thought almighty Bode George of the PDP could go to jail on charges of corruption but Waziri's EFCC secured a conviction of George.
It is inconceivable that a Bode George under an Obasanjo Presidency and Ribadu's EFCC would go to jail. This is one of the shortcomings of Ribadu. But the Civil Society groups insist that Ribadu is one Nigerian that is likely to be acceptable across the country, his shortcomings notwithstanding. Despite his foibles as the EFCC boss, he is widely believed to be in good stead to fight corruption at another level higher than that of the EFCC. Though I find it a bit hard to share the sentiments of the Civil Society groups, I can only give him the benefit of the doubt while I wait to be convinced by the born–again Ribadu. But time will tell if he has actually learnt his lessons while he was away.
Disclaimer:

"The views/contents expressed in this article are the sole responsibility of the author(s) and do not necessarily reflect those of The Nigerian Voice. The Nigerian Voice will not be responsible or liable for any inaccurate or incorrect statements contained in this article."
Articles by thewillnigeria.com