-Lizzy Anjorin Speaks: If You Are Not Happy in Your Relationship, Change Your Mode of Dressing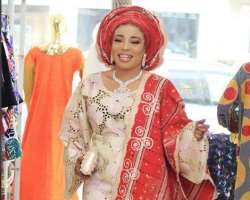 Ever since pretty Yoruba actress, Lizzy Anjorin opened her clothing line, business has been bubbling and she is so excited to show the world what she has got in store.
Recently, the actress has been showcasing different materials and styles of clothes, with names that will wow you.
Some of the names are: Iyawo olele, Yeparipaaa, Senators wife, Funmiloyanmun, Orente, I don't care, Igi owo, Asko, Senator's wife, Mrs Ambode, Flying dove and so many more.
The actress is not willing to take last position and so, she is beckoning on all to come and make their choice of clothes.
After opening her business, here is what she wrote, "We've OPEN for BUSINESS OOOOO!!!
If you are not happy in ur relationship, abeg change ur mode of dressing.... If u are a shy person don't come to my showroom ooooooo bcos i don't make cloth for shy people... If u are tired of ur man sleeping around or not coming home on time or not sleeping at home at all, plz come to my showroom with any amount.... If he likes spending much time with meaningless things than spending time with u, try and visit me... I dey vex gan ni ooooo.... Guys don't realize no woman is ugly, 1 cloth from Lizzy Anjorin Clothings will change your story... You are being neglect bcos u don't dress to kill, when u wear it like tomorrow no go come, he won't dare neglect u... I will introduce u to a makeup artist dat will make u look like a baby doll..."