Nigeria Rep. Chizoba Ejike Dazzles In Hot Bikini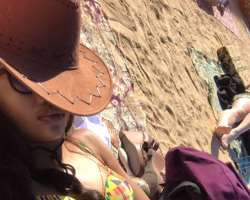 As the countdown continues to most anticipated finals of the 46th edition of Miss Intercontinental World Pageant holding in Egypt, the 72 delegates representing their countries have filed out in their hot bikini outfits at the beach while they socialise and interface with one another in different game shows put together by the management of the beauty contest.
Nigeria's delegate and reigning Miss Intercontinental Nigeria, Queen Chizoba Ejike is not left out in this hot arresting jamboree as she dazzles with amazing confidence ahead of the big stage cracker. Alongside the 71 contestants, Ejike whose body language seem to be a visual element of communication to brands who cherish beauty had swimwear photo sections.
Ahead of the official opening of the Meraki Resort two months time, the contestants visited the Color club and beach house as the first guests to be hosted at the new resort. They had so much fun and sumptuous refreshments in their special dress code of Boho chic style. All the girls were excited as Queen Chizoba Ejike remarked that it was indeed a very beautiful place and an attractive sight to behold.