Nollywood Actress, Angela Okorie Goes Bald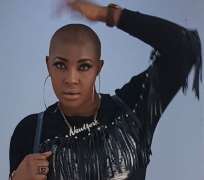 Nollywood actress, Angela Okorie, has gotten her fans shocked with her new looks as she decided to go bald this New Year.
Her going bald is not for a movie shoot but a new means of trying something new with herself and she is already loving it.
Enough of spending so much money on making hair either every week or month because with this her bald, it will avail her the opportunity of having a good sleep as she will be able to pour water on her head.