Musician And CEO Arogunmenite Sounds, Oritsefemi, Set To Wed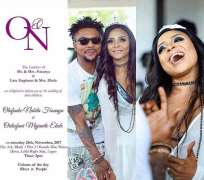 CEO, Arogunmenite sounds, Oritsefemi, is set to wed the queen of his heart, Nabila, on the 25th day in November, 2017.
He is so excited about it as he posts the picture of his invitation card on instagram, stating that Aso-ebi for the occasion is available but limited and according to pocket size.
"It's #ON 25 November, 2017. Oritsefemi & Nabila will be having their wedding.
Aso-ebi for this great day is now out! Please know there are limited numbers, and it will be on first come, first serve. The choice is yours; Ladies: 40k or 25k. Men: Cap is just 2k"
The event will take place at The Ark Event Centre, Block 1, Plot 2 Okunde Blue Water Drive, Lekki Right Side, Lagos, at 2pm, having Silver and Purple as colours of the day.