Rwandan Of "Hotel Rwanda" Fame Demands American's Release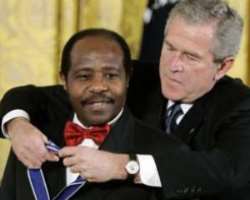 Paul Rusesabagina being awarded the US Presidential Medal of Freedom in 2005 by George W. Bush
By Supporters Of Peter Erlinder
[Commentary: Africa]
Paul Rusesabagina, whose life story was the basis for the movie Hotel Rwanda, and President and Founder of Hotel Rwanda Rusesabagina Foundation, said today, "This morning it was reported that Peter Erlinder tried to commit suicide. According to his family and all past behavior this is inconceivable. It is very likely that the Rwandan government is trying to silence him. Professor Peter Erlinder was in Rwanda doing his job as lawyer. In a civil society, that is not grounds for arrest. If President Kagame considers Rwanda a democracy that adheres to the rule of law, he must release Professor Erlinder immediately. The way for President Kagame to show that there is hope for real justice and human rights in Rwanda is to release Professor Erlinder. "
American law professor C. Peter Erlinder --William and Mitchell College of Law, Minnesota-- was arrested last week over accusations related to negating the Rwandan genocide. The Hotel Rwanda Rusesabagina Foundation deplores this clearly politically motivated arrest, and implores the international community to act quickly and decisively to demand Professor Erlinder's immediate release from custody.
Hotel Rwanda Rusesabagina Foundation has contacted supporters in countries around the globe to ask them to contact their own elected and appointed officials as well as the Rwandan Government directly to ask the Rwandan President to release Peter Erlinder immediately and without condition.
Erlinder, an outspoken critic of the Kagame regime, is frequently criticized by the Rwandan government. His name recently appeared on a publicized list of foreigners who the Rwandan government allegedly wants silenced for their views. Erlinder traveled to Rwanda last week to defend presidential candidate Victoire Ingabire on the charges brought against her by the Rwandan government. Mrs. Ingabire, a political opponent of current President Kagame, was jailed recently and is currently under house arrest for expressing her political views, which are in opposition to official government policies. Erlinder is also a defense lawyer and leader of the association of defense attorneys at the International Criminal Tribunal for Rwanda in Arusha, Tanzania. His current trip to Rwanda was intended to provide defense counsel in a peaceful legal process, but with this arrest his human rights, liberty and possibly his personal safety are in danger.
Professor Erlinder was reportedly arrested on charges of "genocide negationism," which means that he disagrees with the official version of the 1994 genocide perpetuated by the current Rwandan regime.
This law is frequently applied to silence critics of the regime. In the past it has been applied to Mrs. Ingabire, Human Rights Watch investigators, and even the BBC.
Immediate action is needed to free Professor Erlinder and guarantee his human rights and personal safety.

www.hrrfoundation.org
PO Box 11001 Chicago, IL 60611-0001 Phone: (312) 498-9279 Fax: (312) 464-0262
"Speaking Truth To Empower."

|
Article source