We will not sack anyone Amechi assures civil servants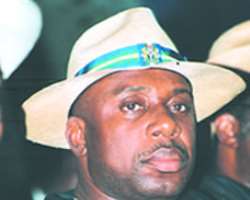 Rotimi Amaechi
Rivers State Governor, Rt. Hon. Chibuike Rotimi Amaechi, says his administration has no intention to retrench any civil servant in the State work force.
Governor Amaechi made this declaration yesterday during a Stakeholders Workshop on Assessment of Key Public Institutions in Rivers State at Hotel Presidential, Port Harcourt.
Represented by his deputy, Engr. Tele Ikuru, Governor Amaechi dismissed insinuations that the State Government plans to lay off some workers from the State Civil Service, saying such rumours were unfounded, assuring the workers that "your fear is unnecessary.
He said that though a considerable percentage of the State workforce are idle, instead of downsizing government will redeploy staff with no specific duties to areas of need, adding that "the civil service remains the engine room of the government".
He highlighted the need for building strong institutions, pointing out that such institutions are critical to ensuring the sustainability of government projects and efficiency, noting that the absence of viable public institutions creates room for political office holders to act unilaterally.
The State Chief Executive called for stakeholders' participation in shaping government policies and programmes, and building strong and viable public institutions, reiterating the need for collaboration between government and civil society in ensuring good governance in the polity.
Earlier, Lead Consultant on the assessment project and representative of the United Nations Development Programme (UNDP), Professor Olusegun Matanmi, has stressed the need for strategic repositioning of key public institutions in the State for enhanced performance.
He noted that "Rivers State recorded a marked reduction in the percentage of households with unconventional toilets," urging the government to tackle unemployment and not relent in the area of infrastructural development.
According to him the assessment which covered four key ministries, Budget and Economic Planning, Works, Education and Health, observed that the State has abundant quality manpower, but regretted an inability in implementing planned budget and project monitoring due to inadequate infrastructure to service the population.