ATM INVENTOR: LEAVING THE WORLD A BETTER PLACE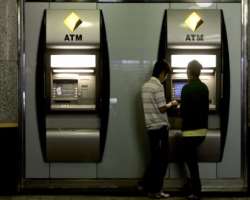 He couldn't withdraw cash from his bank. He was late by one minute. That made all the difference. It led to the difference he made to the world. And it was on a Saturday night. The year was 1965. John Shepherd-Barron had trekked back home, worried. His mind trekked too. There must be a better way to get cash when I wanted it, he thought. He thought of what the chocolate dispenser could do.
Then he went to work on his idea. It took all of two years. That included time spent at the kitchen table discussing his idea with his wife. She said she could only remember four figures, not six, so because of her, he configured four figures into his machine. His invention was installed at a branch of Barclays bank in north London on June 27, 1967. And so the world had the predecessor to ATMs. But the inventor had no patent. Now no one visiting one of the 1.7 million cash machines around the world recalled Shepherd-Barron until he died recently.
The manner many of the news report on his death announced it tells much. One of such says: "John Shepherd-Barron, a Scotsman credited with inventing the automated teller machine in the 1960s, died on Saturday in Scotland. He was 84 and lived in Portmahomack, a Scottish coastal town." It was as if he was never there, breathing, until he passed on, largely unsung. The man had added to a world that added practically nothing to him. Many who came and perpetuated greater immorality in the world got better ovation.
The lot of Shepherd-Barron has been the lot of some great minds. They, often, didn't bother to leave their signatures on their works. But they did leave the world better than they met it.
Daphne Oram was a fellow like Shepherd-Barron. Without her, the world might never have known some of the quality radio programming at the time it did. She started work at the BBC in 1943 as a sound engineer. She was aged 18, and she had passionate interest in sound, music and electronics. She was initially in charge of ensuring sound levels were right for broadcast, and she helped to make sound effects for plays. She tried to encourage her employer to take the idea of electronic sounds with some seriousness.
She gave attention to her hobby for long hours after hours in the course of the war She failed to persuade her bosses to create an electronic studio, but she stayed late in office, assembled the BBC's first tape recorders together and built a studio. She had to disassemble it every morning. But in 1957, her effort to get the BBC to open a radiophonic workshop came became fruitful. The workshop provided background music to programmes, and she was its first director.
This intensely very private woman died on January 5, 2003 at the age of 77. Her passing was largely un-noticed. She had been quiet for years, and her legacy was mostly unheard. A colleague of her had said, "she lived music. She was as poor as a church mouse, because any money that came to her went into her music gadgets,"
There is something to be picked from the life of John Shepherd-Barron and Daphne Oram. And it may be for all out there. One known Nigerian came to Abuja and spoke recently. She was asked how she managed to rise to prominence at such, relatively, tender age. This lady is a writer, and she had mentioned every other thing before she added 'and of course, I made my choice. The choice to write, and be committed to writing." She had written a book in her early twenties while she was here in Nigeria. And she had spent her money to pay in part for its publication to a publisher. She would later leave for the United States of America where she began to write another book.
That book later won a Commonwealth Prize. Another book that came shortly after it won the Orange Prize, and thus by the time she was about thirty years of age, hers had become a famous face all over the world. Her name is Chimamanda Ngozi Adichie.
There can't be much to be added to the above, except to state the obvious. The importance of being committed to a vision. Great mind that went unsung shared the same traits with minds that were sung, such as the Albert Einsteins, the Adichie's. There is no way up except to look up, making most of time, opportunities, and be committed to a vision.
Names of such people are written not only on marble but in gold. And, of course it is not what a man takes from the world that makes him great. It is, rather, what he adds to it in his own little corner – the John Shepherd-Barron way, who in 2004, was awarded an Officer of the Order of the British Empire by the Queen of England. It was in recognition of his contributions to banking.
Ajibade, a Consultant Writer, lives in Abuja. email: [email protected]
Disclaimer:

"The views/contents expressed in this article are the sole responsibility of the author(s) and do not necessarily reflect those of The Nigerian Voice. The Nigerian Voice will not be responsible or liable for any inaccurate or incorrect statements contained in this article."
Articles by thewillnigeria.com