Supreme Court Upholds Senator Effiong Bob's Election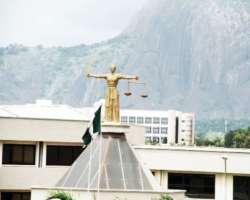 PHOTO: NIGERIA'S SUPREME COURT BUILDING IN ABUJA.
ABUJA, May 21, (THEWILL) - The Supreme Court Friday upheld the ruling of an Appeal Court and declared Senator Effiong Dickson Bob the winner and rightful candidate of the Peoples Democratic Party (PDP) for the 2007 senatorial election as Senator representing Akwa Ibom North-East in the Senate.
The Appeal Court in March over ruled the verdict of an Abuja High Court, which had declared Akpan the rightful candidate of the PDP for the election for which the Independent National Electoral Commission (INEC) recognized Bob and declared him winner.
Upholding the decision of the Appeal Court, the Supreme Court held that Bob is the recognized candidate of the party by INEC and as such enjoys the success of the PDP at that election.
Chief Albert Akpan had dragged Bob to the court over his insistence that he and not Bob is the rightful candidate for the election.
Akpan claimed he won the primary poll by coasting over 60 percent of the votes cast and beat other party contestants including Senator Bob Effiong but that the PDP forwarded Bobs name instead of his to INEC for the main election.
Akpan said he protested to PDP whose top echelon represented by its National Chairman and National Secretary wrote three different letters to INEC to substitute Effiong's name with his own. According to him, the first letter written by the PDP's authorities seeking for substitution was dated February 5 while the second was dated February 12 and the third on March 20. He said to his dismay, INEC refused to act on the letters.
In his defense Bob had maintained that he scored lower in the primary election not because he was unpopular but because the election was marred by irregularities and rigging.
However, the ruling of the Supreme Court has put the matter to rest and has become a point of reference for such cases in the country.