EMRC 7th Africa-Israel Agricultural Trade Mission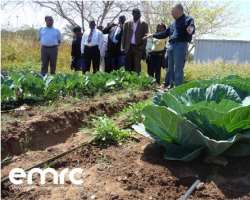 A Resounding Success
Brussels, 20 May 2010
Brussels-based EMRC continues to promote the growing of partnerships towards the sustainable economic development of Africa with the success of its 7th Africa-Israel Agricultural Trade Mission. A select group of 32 African entrepreneurs and officials from Angola, Benin, Nigeria, Tanzania, Kenya, Senegal, Cameroon, the Democratic Republic of Congo and Côte d'Ivoire travelled to Israel where they were immersed in the Israeli agro-industry and agro-food sectors over 5 days.
Organised in partnership with MASHAV (Israel centre for International Cooperation, Ministry of Foreign Affairs), CINADCO, Emdevia and the Israel Export & International Cooperation Institute, EMRC's Africa-Israel Agricultural Trade Mission took place from the 25th to the 29th of April 2010. The itinerary included visits to farms that utilise high-end drip-irrigation systems, dairy, poultry and post-harvest techniques, amongst others. The participants observed and interacted with their Israeli counterparts at each farm visit, sharing their experience, knowledge and expertise across the various agri-business sectors. They were introduced to the latest technology developed by Israel in the agro-industry and agro-food sectors and participated in business meetings with their Israeli counterparts. The agricultural trade mission ended with visits to the fascinating ancient cities of Jerusalem, Nazareth and Bethlehem, where the participants relaxed and enjoyed the rich heritage of the region.
EMRC invites stakeholders, businesses, financial organisations and industrialists from the agro-food and related agribusiness sectors to join us at the AgriBusiness Forum 2010. Hosted by the Government of the Republic of Uganda and organized in collaboration with the FAO and the Rabobank Foundation, AgriBusiness 2010 will gather over 400 professionals in the bustling city of Kampala, Uganda from the 3rd to the 6th of October 2010.
For more information please visit our website www.emrc.be