Actress, Shaffy Bello Gives Younger Ladies Tough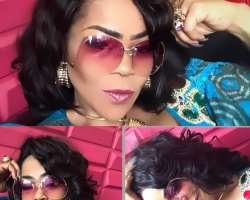 Nollywood actress, Shaffy Bello, is looking so pretty despite her age and she is not relenting in maintaining that good looks as she continues to hit various movies sets.
The actress became popular with singer, Seyi Sodimu's hit single 'Love me Jeje' in the late 90s and suddenly went silent but returned to the scene some years back.
Well, she is currently on set but she did not fail to show off her pretty side as she hopes to give younger ladies a tough run when it comes to being pretty and her makeup artiste really did a nice job.