SENATE PROBES OUTAGES AT LAGOS AIRPORT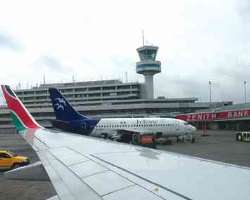 Murtala Muhammed International Airport, Lagos
The Senate on Thursday ordered its committee on Aviation to investigate the power outages that had adversely affected activities at the Murtala Muhammed International Airport, Lagos since Sunday.
The Senate, through a motion brought before it by the Chairman of the Senate Committee on Aviation, Senator Anyim Ude, and eight others, noted with sadness the incident; which resulted in a four-hour total blackout at the departure and arrival halls of the terminal building on Sunday.
Instead of ruling on the prayers contained in the motion, it urged the committee to embark on an investigation, with a view to obtaining all the facts of the matter and present its report within the next three weeks.
The Senate noted that the prayers in the motion raised issues that needed to be backed up with facts, so that it could make informed decisions on them.
While presenting the motion Ude said the outage also paralysed operations at the airport and caused flight delays.
He said that while the blackout lasted, passenger facilitation was stalled as arrival and departure halls were rowdy, dark and very hot.
According to him, the Immigration, Customs and Central Security Screening areas were in total darkness, denting the corporate image of Nigeria and posing serious security problems to the country.
The motion further reads, 'The Senate observes that the incident was caused by the burnt electric cables as a result of delegation due to the aging of the cables installed more than 32 years ago.
'The Federal Airports Authority of Nigeria has been unable to change the cables, on the grounds of lack of funds, in spite of warnings that such old wires may ignite a fire or even cause death.'
It also expressed concern that as a result of alleged inefficiency and corruption, FAAN, which had a potential to generate over N3bn monthly was spending over N800m on salaries, leaving little for the maintenance of facilities.
Ude further noted that none of the nine resolutions of the Senate, taken when it considered the report of the committee on the disbursement and utilisation of the N19.5bn Intervention Fund released by the Federal Government in 2006, was implemented. The report was prepared after the committee's investigative public hearing on the fund.