Grace Egbagbe looks Ageless on the Cover of TW Magazine's October Issue!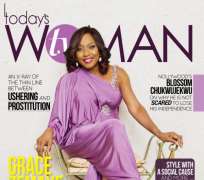 An epitome of brain, beauty, style and authentic independence, ageless Grace Egbagbe is the cover star of TW Magazine latest issue.
The veteran media personality speaks on her love for God, family and how she plans to capitalize on the graces in her life to help other people navigate the often tricky waters of life, through her new blog 'Ask Aunty Grace'.
Cover Credits
Photography: Zemaye Uweme Okediji
Styling: Jane Michael Ekanem
Cover Outfit: Enthyst's Place
Cover Story: Amarachukwu Iwuala
Make-up: Kelechi Igbojekwe for Belle Bedazzled