And 'Hollandis' is back on the scene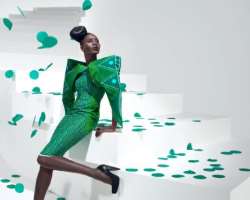 The fashion and fabric display organised by Vlisco, the manufacturers of real Dutch wax, which has been nicknamed Hollandis and super wax. The designs were mind-blowing, the colours were brilliant and the fabrics were lustrous.
Displaying its new collection, which is called Sparkling Grace, the intense red and green colours filled the spotlight, in vivid contrast with the dazzling yellow and orange.
The Sparkling Grace, which paid homage to elegance and femininity, magnified inner and outer beauty.
The designs would definitely be a tailor's delight and artists would do anything to have the colours on their canvasses.