US SINGER LENA HORNE DIES AGED 92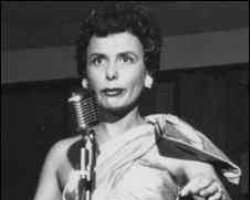 The US singer and actress Lena Horne has died in New York at the age of 92.
Renowned for her beauty and sultry voice, Ms Horne battled racism to become Hollywood's first black sex symbol.
In 1943, she played Selina Rogers in the all-black film musical Stormy Weather, the title song of which was to be a major hit and her signature tune.
Her career spanned more than 60 years. Later she embraced activism and became a voice for civil rights in the US.
When asked about her success, Ms Horne once said: "I was unique in that I was a kind of black that white people could accept.
"I was their daydream. I had the worst kind of acceptance because it was never for how great I was or what I contributed. It was because of the way I looked."
In 1981, her one-woman show, the award-winning The Lady and her Music, based on her life and career, ran for more than a year on Broadway and in London.