Want A Healthy v**ina? Throw This One Clothing Item Away!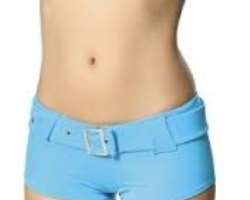 Get to your dresser and start throwing them out ASAP, not LaterSAP. proves it.
I'm talking about short shorts.
High waisted short shorts are having a moment. From a fashion perspective they are meant to show off the legs and b*tt.
This also means they showcase the belly and the camel toe. I do not think the fashion world realized this when they decided to make short shorts a thing. It doesn't seem like their style. But if they did, kudos dudes.
Short shorts are so not kind to your v**ina. By their very nature they sit high on the hip AND the crotch, which can leave you lifted and separated in all the wrong places.
Add hot weather to the equation and you've got a prescription for itching, chafing, bruising, and possible yeast infections.