ADAMU WANTS NFF TO RECONSIDER AMODU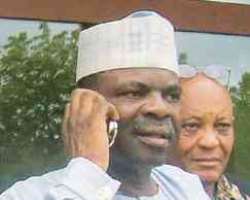 Dr. Amos Adamu
The President of West Africa Football Union, Amos Adamu, has called on the Nigeria Football Federation to reconsider its position on former Super Eagles coach Shaibu Amodu as the team prepares for the World Cup.
Amodu was redeployed to the home-based Eagles following the third-place finish of the team at the Angola 2010 Nations Cup but the former Director-General of the National Sports Commission said the NFF should have considered that the coach helped the team qualify for the World Cup without losing a match.
Adamu said, 'Amodu has tried for the team and I don't think he should have been dropped.
'His tactics might not be favoured by many but he got the result we wanted and he met the target given him at the Nations Cup.
'Argentina did not win all its matches during the qualifiers but Diego Maradona was not sacked. They believe in him to lead them to the World Cup.
'At the Nations Cup, Nigeria won bronze but there were other countries that did not win anything, despite having big name players in their teams.
'The NFF should have been patient with Amodu. Even after employing a foreign coach, he should have been retained in the team.'