Afriyie "Wutah" Announces His Upcoming Release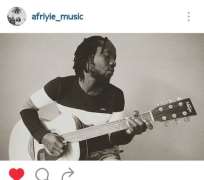 Many have described him as one of the "outstanding male vocalists" in the Ghanaian Music Arena. This is simply because; it takes that much for one person to grab six nominations (cumulatively) in any music award scheme.
Between 2006 and 2016, AFRIYIE WUTAH has been a constant in the best male vocal category in Ghanaian Music Awards, that of which he won in 2010.
It comes therefore as no surprise that AFRIYIE has been able to carve a niche for himself since embarking on his solo project after splitting from the group WUTAH.
Commencing year 2016 was brighter, as AFRIYIE teamed up with the likes of David Oscar and Edem on various collaborations that are cementing his magic touch and experience as a vocal god.
In a recent post on his micro blog instagram AFRIYIE revealed his upcoming release with a statement that read
"I view my work as a gift to society. As such, I love to package that gift nicely. I am thrilled by the possibility of my song touching the heart of a listener and affecting his/her life for the better. #NewMusic #DropsIn5Days"
This song is certainly anticipated.