The desperate housewife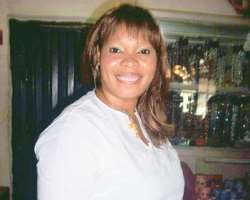 This is the place for you to leave a comment about any Nigerian movies you have seen. Recommend Movies. Give your own review of movies. Criticize a movie. Rate your favorite movies. New /Classic Movies.
Director: Emeka Jonathan, Charles Inoji.
Featuring: Stella Damasus, Jim Iyke, Tonto Dike, Desmond Elliot, Chinyere Wilfred, Kalu Ikeagwu, Ebele Okaro, Annie Macaulay.
This is a story about the desperation of a childless woman. Imelda (Stella Damasus) is married to James (a heavily bearded Kalu Ikeagwu) but they have no children after 10 years of marriage. Her mother-in-law (Ebele Okaro) is understandably peeved, to put it mildly. She goes to great length to show her dissatisfaction which includes humiliating Imelda in front of her friends.
Patience is the key to Imelda's miracle, so say her pastors. But how patient can a woman who we are not allowed to forget is about to 'slide into her menopause' be? Wilfred gave the word a rather nice adjustment, insisting it is 'monopause'. What could be more 'mono' than menopause anyway? With that in mind, Imelda has to make some fast decisions to 'save my marriage'.
Enter her husband's university graduate driver -KK or Chuks (Desmond Elliot). He's the perfect man for the 'job' he doesn't know he's being used for. First try - twins! So what can go wrong with this foolproof plan? Somewhere in the picture is Amaka (Annie Macaulay), Imelda's sister who's also the woman scorned. Before I'm accused again of being a National Spoiler, you may have to see the rest of the film yourself.
The dialogue is quite good and I suspect the acting covered up a few potential shortcomings. I had one grouse, though. Apart from Kalu's cave man beard, Stella's dressing is an overkill. It's elegance at its best, no doubt. But it doesn't always tie in with the story. Even in scenes where's supposedly depressed because of her impending 'monopause' (a la Chinyere Wilfred). She'll be all drenched in tears, complaining and lamenting about her mother-in-law's maltreatment- which the viewer can see is very dehumanising.
Plus, we all know Stella can cry in whatever format- sob, weep, etc. But as sad as the situation she paints is, her chunky jewellery and 'bottom box' clothes make it difficult to take her too seriously.
I know one Nollywood actress tried to explain they sometimes dress out of characterisation in order to please their fans, but the dressing should (still) as much as possible follow the story. Otherwise how can we take the story serious? And all the noise our actors are making about aiming for Hollywood will certainly remain noise if they insist on carrying on as if they're just producing Mexican/Brazilian telenovelas. Not that there's anything wrong with producing telenovelas. But then, it should be clear to all concerned that's what we are producing and not some excuse of a movie.
Still, I'll recommend The Desperate Housewife.