I WAS ONCE A VILLAGE TEACHER – BOB DEE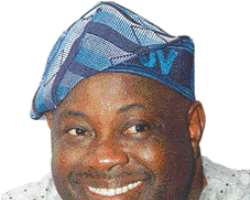 Bob Dee
Today, he wines and dines with the rich, the noble, the influential and the powerful. Through the pages of the magazine he publishes, Ovation International, Dele Momodu easily gives us a peep into the lives of these people. But once upon a time, he was a library attendant, a village school teacher raised by an unlettered but intelligent mother.
Though he has become an international citizen, he is still very much your regular homeboy, who has never lost sight of his roots. In this interview, the man fondly called Bob Dee, who will attain the golden age come May 16, shares his story of rising from rural rustic Ile-Ife to global citizenship.
From a village teacher to a global citizen…
In the last one week, I've lived between Accra, Monrovia, Jo'burg, Lagos and CapeTown, just to tell you how busy I am. But I'm grateful to God that I was well prepared for this difficult task. My background in Ife prepared me for whatever I'm doing today. It was a very rural setting.
Remove the university and Ife would be a big village but life was good in Ife.
I lost my father when I was very young, I was 13 then, and was left with a poor unlettered (if you like call her illiterate) woman. Though my mum didn't go to school, I believe she was an extremely intelligent woman. She had the wisdom to know that education would be the key to unlock the future. And she did everything after my father died to send us to school.
So anytime we had any little break, I had to engage in one or two menial jobs. I worked as an errand boy at the CSS Bookshop, that's the first place I met Dr. Tai Solarin, and I was so fascinated to meet a man like that. I worked as a village teacher, then we had to wake up very early in the morning to jump on a cocoa tractor (like caterpillars), because there were no vehicles that could ply those roads, and I doubt if those roads have been improved, because of lack of good leadership in Nigeria.
I worked as a library attendant, picking books for scholars, students to read, and that was where I encountered Wole Soyinka, Kole Omotosho, Prof Ola Rotimi, all of them used to come to the library. It was also in the library that I started reading literary works, a lot of them especially the African writers series, Ayi Kwei Armah, Kofi Awonor, Wole Soyinka, Chinua Achebe, Elechi Amadi, Cyprian Ekwensi, Ngugi Wathiongo from Kenya, Okot p'Bitek from Uganda, David Rubadiri from Malawi, Nagud Mafuruz from Egypt, Nawal El Saadawi, my favorite female writer Mabel Segun etc.
I read voraciously, and the University of Ife bookshop was very close to the library, so we were able to buy any new books that came out. If we couldn't get it there we would go to Odusote Bookshop in Ibadan. And then our bursary was N500, which we waited for patiently for; it was a lot of money then. People bought refrigerators, motor bikes, and some traveled on summer holidays abroad.
The first time I traveled to London in 1985, my ticket to London on British Caledonian Airways was less than N600. You didn't need a visa then. Just to tell you how fast Nigeria has deteriorated. Sorry if I'm jumping the gun, but that's one of the reasons when I see people like Babangida saying they want to come and rule Nigeria, and I'm like you had the best opportunities in this life, you wasted it. 1985, I think that was the year he came to power, we didn't need a visa. The day I was going to England, I went to International Merchant Bank on Awolowo road, Ikoyi, gave them N110 and the gave me 100 dollars, the N10 was the commission for the exchange.
I wanted to be a teacher
So that was my background, as poor as we were, we had opportunities ahead of us, that is a very important fact to emphasise. We were poor but we were not hopeless. A university teacher at that time was like a demi-god. In fact my ambition was to be a lecturer. I'd always wanted to teach because I believed that without teachers, none of us would be where we are today.
Everybody looks down on them that they are poor and unambitious, that is not true. So I grew up in that environment, did my first degree in Yoruba from the University of Ife, which later changed to Obafemi Awolowo Uiniversity. Did my Masters in Literature-in-English and the idea then was that one could not leave Yoruba to do a Masters in Literature-in-English. Even my illiterate mother then felt how an able-bodied man could go all the way to the university to study Yoruba. One day she asked me, 'Bamidele se o wa si nkan.
Ki lo fi Yoruba yi se, o fe se babalawo ni n dan? 'What are you going to do with Yoruba, do you want to become a herbalist?' So I had to educate her that Yoruba is like French or English or German, that it's a language. So she left me alone. And to prove to people that I was not a dullard, I went back to do my Masters in 1986. I graduated in 1982, did my National Youth Service working as a teacher, I taught A'Levels at the Oyo State College of Arts and Science then.
I left that job to work as a private secretary to Chief Omoboriowo, who was deputy governor of Ondo State, and in 1986 I worked for the Ooni of Ife, Oba Okunade Sijuade, working with the Motel Royal Limited on Ede road. Thereafter I went for my Masters and it was a tug of war, because the university had never had such a thing, someone with a first degree in Yoruba coming to do Literature-in-English. Eventually they gave me the chance asking me to do some prerequisite courses at the undergraduate level which I didn't mind. I knew it would waste my time but I was going to prove them wrong. But within a short while, my lecturers gave me an exception that I was well ahead of that level that I should be allowed to concentrate fully, and that was it.
As I was finishing that I was also writing for newspapers like Guardian in Lagos and the Sunday Tribune in Ibadan. The Guardian was paying me N25 per story, and I would wait until they had published at least four, so I would travel down to Lagos to collect the N100 which was good money. I needed every penny to survive. I didn't come to live in Lagos until I was 28 in 1988. Before then I was looking for the job of a lecturer.
I tried Adeyemi College of Education in Ondo, tried the one at Ikere-Ekiti, everywhere but couldn't get a job because the military regime at the time had placed an embargo on promotions and appointments in the universities. I also spoke to a friend of mine, Onukaba Adinoyi Ojo, who was working at the Guardian. He asked me to come to Lagos, maybe he could help me get a job at the Guardian. But when I came I couldn't get a job there; then he introduced me to Concord newspapers, where I got a job immediately.
Would you say that was a turning point in your life?
I've had many turning points in my life and that was one of them. I was looking for a job, I got it instantly and I even had to beg them to give me time because I wasn't even prepared for it. So my life I believe has been pre-ordained by God. I was born in a church in 1960, and I've always been among prayer warriors. Born May 16, I'll be 50 next month, I'm a child of Independence.
Did you experience hostility in Britain considering the way they treat us? If so how did you handle it?
Hostility when living in England? No, never. In fact, I believe that Britain is one of the best countries in terms of looking after their citizens. I arrived Britain as a refugee and I applied for asylum in London after I got into exile in 1996 and to my utter surprise, we were invited for interview at home; it is called the Home Office and they requested that I should bring all my credentials and any proof of my activities back home in Nigeria to show that my life was threatened and that I was in danger.
And by the time we finished that interview, the woman who interviewed us, looked at me and said, 'I am not supposed to tell you this, but I must tell you I have never seen a case as this and I have been working here for over 20 years, and your case was so straight forward, there was no embellishment and I believe you have a good chance, I can't promise you. When we were about to leave, she asked if there was anything else I would like them to know.
And I said that if Her Majesty, the Queen would grant us asylum (because everything belongs to the Queen in England), I said I want to assure Her Majesty that she will never regret the decision. And I can tell you that God in His mercies, (I am almost like a prophet, like when I was born, I was named Joseph, I dream a lot, I see vision), you wouldn't believe it that when the Queen came to Nigeria about 7 years ago, Ovation was chosen by Buckingham Palace as official magazine while ThisDay was chosen as official newspaper and that was how Nduka Obaigbena and myself were invited to meet with the Queen at the British High Commissioner's residence in Abuja.
And when it was my turn to speak with her, we spent about three minutes, I told her and said: Your Majesty, I was in Britain as a refugee and when I was being interviewed for my asylum claim, I promised Your Majesty that you will never regret that decision and I am proud today to tell you Ma that I publish what is regarded today as the Hello! of Africa, it is called Ovation and she smiled and moved on. I have the picture and everything. So God has a hand in the affairs of men because the way I saw it coming was the way it exactly turned out. I never knew that I was going to meet the Queen.
Did you see it in a dream?
It was like a vision, I am the kind of person who ordinarily will think about something and it will happen, it is incredible. That is why I said that I am like a prophet, I am quite spiritual, I feel that most of the things that are happening to me today, I must have felt at one time or the other. There were prophesies anyway, they told my mum that her child was going to be very famous. And the way things have happened in my life, I find it very mysterious.
Did you at any point in time in your life felt that you were not doing something that you were destined to do?
No, anything that came my way, I had always accepted it because I work very hard. Any job or assignment you give me, I do it to the best of my ability even when I was in Concord as a reporter, Mike Awoyinfa used to write a lot of testimonials for me in Weekend Concord. I remember one he wrote: Dele Momodu is every editor's delight. That when Dele Momodu writes for you, you have little or no editing to do. I am a perfectionist.
How do you unwind?
It is very difficult, but I love flying. Anytime I am on the aircraft, I don't do any thing, I don't read books, I don't watch movies, I just eat, drink a little and recline and sleep.
Flying doesn't strain you?
No, I love flying. In fact, the only time that I am in perfect tranquility is when I am flying because at that height you can't do anything.
Don't you ever get scared about a crash?
No! Not at all, there is nothing you can do. At that height, what are you going to do?  You are in the hands of God, so you just have to accept it.
Have you ever had any near death experience?
Oh! Many, you can't fly the way I fly and not have it. There was once I was going to Accra many years ago on a Ghana Airways DC 9 and we lost both engines. The captain was quite dramatic, he just announced it so casually, he didn't want to create panic. Because we realized that our ear drums were going to burst and people were opening their mouth to breathe and they just announced so casually that they had lost the generators. And I didn't understand, so I called one of the hostesses and asked what he meant by generators? He said that they just lost their engines. I said; Oh! Wahala but they were able to glide and we were close to Accra.
At that moment, what was going through your mind?
Trust me, my mind was blank. I was just there waiting; I am not such a superstitious person. Whatever happens there is nothing you can do about it. There was another occasion I was going to Heathrow from Lagos and the Virgin Atlantic plane was hit by thunder, the aircraft had something like a fire ball, like when lightning drops and it hit the plane and the plane was on fire and everybody was shouting, Jesus, oh, Mohammed.
Everybody was shouting the name they knew and at the end of the day, there was a white guy sitting next to me. He looked at me and I looked at him. Then he said ha! I said don't mind my people, they love God but they don't want to see His face. He could not believe that in the middle of that I was still cracking jokes. But that's just me, I turn serious things into a big joke.
Are you a designer person or do I say what is your own vanity?
I think it is flying. In fact the title of my autobiography that I'm working on is Born to Fly. I love to fly, I love very good airlines and very good hotels.
Do you like to fly in Business Class?
It doesn't matter, I can fly in any class but most times you are likely to find me there. Though not all the time, it depends on where you are going and what it is. There are times you have the money for business class and the seat is not available but for people like us we must go, I will sit anywhere even if you like put me in the toilet I will sit, it doesn't matter. It is all vanity, we would all get there at the same time, but I wouldn't mind to fly in Business class.
Who are your mentors?
Everybody knows them, there is no secret about that. MKO is number one, the other man is younger than MKO but has a lot of influence on me – Dr Mike Adenuga Jnr. His hard work is stupendous, I have never seen any human being working so hard; he doesn't go out or socialize. Do you wonder why he does that?
He makes all this money for others to live good lives. That is what I appreciate about him; Dr. Olabode Olajumoke is a man who has a passion for the under-privileged, I like people like that. Then I like great achievers, people who have conquered territories, people like Ambassador Dehinde Fernadez. These are Nigerians who have conquered territories, it is incredible what these people have done in their lives. I have met a lot of them.  The Esama of Benin, Chief Gabriel Igbinedion.
These are people who when the black man was thought to be just nobody, these people conquered territories. There are also younger ones like Aliko Dangote, Femi Otedola. Let's forget about envy or anything, people say they do this or that but trust me, it is not easy in a country of 150 million to stand out.
Wale Tinubu, Orji Uzor Kalu, Tony Elumelu, Jim Ovia, , Tayo Amusan- the Shop Rite guy, a young man, these are people who believe in the power of dreams, those are people who I see as mentors, for me mentoring is not about age. I have met people, look at Fashola when he was going to be made governor, we all looked down on him but see what he has done. Those are great men, Chief Bode Akindele, at a time this man was a major shareholder in Gillete, these are great human beings and they fire my imagination and I like to relate to them.
What advice will you give young people out there?
My advice is always what Abiola told us: Hard work is prayer in action. You can't just sit down at home and be praying. Hard work is prayer in action. You can't fold your arms and then think every thing will be fine.