TAKE A WALK WITH CLOGS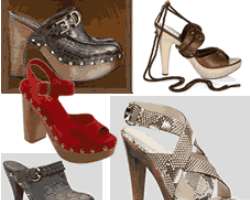 Clogs are here, there and everywhere. With this new addition into the fashion scene, style is the watchword of the wearers. Clogs are specially designed shoes and sandals made predominantly out of wood.
They can also come in heavy boot or shoes with thick wooden soles. Today, clogs also come in comfortable slip-on shoes. They are often made out of leather, but some clogs come with heels, and are distinguished by their higher vamp.
Wooden clogs are the most popular of them all. It gives a balanced gait to the wearer. It is cool with skinny jeans,and leggings. Complementing a clog with a short gown as well as shorts steal the show any time.