IBB BOYCOTTED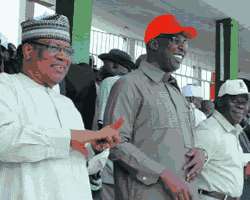 L-R: Ex-Military President, Gen. Ibrahim Babangida, Govs. Timipre Sylva (Bayelsa), representing Acting President, Dr Goodluck Jonathan, Governors Adams Oshiomhole (Edo), Liyel Imoke (Cross River), Emmanuel Uduaghan (Delta), Rotimi Amaechi (Rivers) and Dr Pius Odubu, Edo State Deputy Governor at the 'One Man, One Vote' mass rally in Benin City, Edo State, Thursday.
Photo: Sun News Publishing
More Stories on This Section
Nobel Laureate, Prof Wole Soyinka, former Lagos State Governor, Bola Ahmed Tinubu and some Action Congress (AC) leaders on Thursday boycotted the one-man one-vote rally organised in Benin, by the Edo State Governor, Comrade Adams Oshiomhole, to promote government's electoral reforms.
The contingent, which departed Lagos on Thursday morning at about 10.20a.m for Benin, hurried back when they discovered that former military President Ibrahim Badamasi Babangida, who annulled the June 12, 1993 presidential elections, would be at the event and the Special Guest of Honour would be Senate President, David Mark.
Speaking with aviation reporters on arrival from Benin, Soyinka, who was in company with Tinubu, AC gubernatorial candidate in Osun State, Rauf Aregbesola, his Ekiti State counterpart, Dr Kayode Fayemi, National Chairman of AC, Chief Bisi Akande, the party's National Secretary, Usman Bugaje, National Publicity Secretary, Lai Mohammed, and AC Ekiti Senatorial aspirant, Femi Ojudu, the Nobel Laureate said the calibre of people invited by Oshiomhole was what made the team come back.
Hear him: 'I don't think any rally was aborted. Let me just put it this way, this is the last straw (pointing to an advert in This Day newspaper, which listed Ibrahim Babamasi Babangida as special guest of honour at the rally), I saw this and simply put, the matter on ground is beyond comprehension,' he stated.
Also speaking on the boycotted 'one-man-one-vote' rally, Bugaje said the programme, which was meant to press home the need for free, fair and credible elections in the country, turned out to be the launch of a mini-presidential campaign for former President Babangida.
'We went to Edo for a rally on 'one-man-one-vote', meaning a rally on electoral reform so that we can press home the point that we cannot afford to continue with the kind electoral process that we have seen that we must have a fair, free and transparent and credible elections. But when we went, we found out that the stage has been set for one of the presidential candidates or presidential aspirants on the platform, which is not that of our party.
And we thought our participation would mean some kind of endorsement which we are not prepared to do. Secondly, and perhaps even more importantly, the fact that the guest of honour as we saw on the plane in the newspaper on an advert was the Senate President. This was the same Senate President who literally supervised the destruction of the Uwais report that went to the National Assembly. In other words, this was the man who supervised mutilation and the destruction of the hope that this country had for a better electoral system.
We don't see how such a man can be the Special Guest of Honour in a rally which is all about free, fair and credible elections after he has destroyed the report that is actually provided for free and fair elections. So with all these contradictions, we thought actually we had no place, that place was not for us. And, therefore, we withdrew, we excused ourselves, we wished them well and we will see how things unfold and we will let you know what our views are,' he stated.
On what would be the party's next line of action after boycotting the rally, he said: 'I think Nigerians are already wise now to think through some of these tricks and gimmicks. I don't think anybody would be deceived by that kind of crowd to say this is the crowd gathered for electoral reform. Nearly all the dignitaries that are elected officers were the very beneficiary of this corrupt, mutilated electoral system that was supervised by Maurice Iwu. Thank God he is now gone. And how can these people really be there at the forefront in a rally which is all about free, fair, and credible election? We will wait and see what they are going to say, and what things will follow before we decide our next move,' he explained.
Meanwhile, Babangida at the Dr. Samuel Ogbemudia Stadium, Benin, Edo State, got a foretaste of what awaits him in his bid to become President through the ballot box in 2011.
General Babangida, who arrived the stadium in a Coaster bus in company of his host, Governor Oshiomhole for the launch of the rally and Governors Emmanuel Uduaghan, Rotimi Amaechi, Liyel Imoke of Delta, Rivers and Cross River states respectively, and Governor Timipre Sylva of Bayelsa, who represented Acting President Goodluck Jonathan, was taken to task over his annulment of June 12, 1993 presidential election.
Former Nigeria Labour Congress (NLC) president and current Secretary-General of Organisation of Africa Trade Union, Comrade Hassan Summonu, fired the first salvo when he appealed to Nigerians to never again allow any free and fair elections to be annulled in the country.
He stressed that whoever annulled the June 12, 1993 election was the cause of the problem Nigeria was passing through today.
But Festus Keyamo, a Lagos lawyer and social crusader, did not mince words when he said that it was only one man, one vote that would ensure a corrupt-free government that would deliver on electoral promise and be accountable to the people, adding, 'that is why we protest the presence of Ibrahim Badamosi Babangida who annulled the June 12 election.'
As if that was not enough, President of Campaign for Democracy, Joe Okei-Odumakin, drove home the message when she said pointedly that Nigerians needed a public apology for the annulment of June 12, 1993 presidential election. 'We need to know why we lost the man and the mandate of June 12. We need to know why the freest and fairest election was annulled,' she said.
However, an obviously embarrassed Babangida told reporters at the Benin Airport on his way out that those who spoke were entitled to their rights, adding that the beauty of democracy was that you agree to disagree.
General Babangida stated that everybody was free to make his choice the way he liked.
In his speech, Acting President Jonathan while commending Governor Oshiomhole for organizing the one-man-one-vote rally, remarked that it was an important contribution in the ongoing debate by all patriots for credible elections in the country.
Speaking through Governor Sylva, the Acting President hoped that the pre-eminent mission of this generation must be to deliver on the promise of good governance through the process of elections that was free, fair and acceptable. 'Any society or country that closes the vital valves of its democratic space. For where there is no opportunity for one man, one vote, there will be no accountability and correspondingly no responsibility,' the Acting President said.
While stressing that 'electoral fraud is the basest form of corruption' which Nigerians must do everything in their power to bring to an end, President Jonathan urged Nigerians to embrace the democratic ideal of respect for the individual voters, adding that the ideal which enabled people to elect their leaders freely would enhance their fundamental freedom.
Announcing that the process of electoral reforms was going at a good pace, Acting President Jonathan, however, stated that for credible elections to take place, Nigerians must insist and cultivate the right attitude and be willing to play by the rules, adding that 'this will apply to the voters and candidates and their supporters as well as the political parties.'
In an apparent reference to pressure mounted on him during the bye-election in Etsako Central and the Anambra governorship election, the Acting President said the government must at all times stand by the people and must at all cost resist the temptation to pervert the will of the people.
In his speech, Oshiomhole explained that the rally was non-partisan, but a forum of Nigerians who appreciated the need to deepen democracy through credible election based on one man, one vote.
He stated that in democracy two elements were critical - the people and voters are king, and that whoever holds office does so at the mercy of the electorate.
Oshiomhole who praised Jonathan for demonstrating neutrality during the re-rerun election in Etsako Central and Anambra state governorship election, urged youths to resist being used as thugs during elections. Speaker after speaker expressed support for one man, one vote with former old Kaduna state governor, Alhaji Balarabe Musa raising alarm that the credibility of credible election in Nigeria was slim despite the Justice Mohammmed Uwais report.
He alleged that it was clear from what was happening in the National Assembly that Nigerians would have electoral reform that the PDP could tolerate.
Meanwhile, Comrade Oshiomhole may have stirred the hornet's nest and caused a crisis within his party, AC, for not only making Senate president, Mark, Special Guest of Honour on the occasion, but making PDP chieftains to dominate the rally.