ENGLAND 'LAGGING ON LUNG CANCER'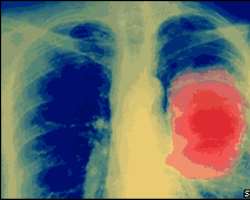 Delays in diagnosis are thought to account for some of the difference
Those diagnosed with lung cancer in England are much less likely to survive the disease than their Scandinavian counterparts, a study suggests.
A study published in Thorax finds that despite similar health spending, Swedes have almost double the survival rate after five years with the disease.
This was true regardless of the age and sex of the patient, and how long they were monitored for.
But researchers say it is hard to pin down the exact reasons for this.
The English patients studied were less likely to be treated with surgery and drugs than their contemporaries in Sweden and Norway.
But this could be because they delayed seeking medical help, or their doctors were not quick enough to spot the symptoms and that the disease was beyond treatment by the time a diagnosis was made.
First year
An international team – led by doctors from King's College, London – looked at more than 250,000 patients from England, more than 18,000 from Norway and nearly 25,000 from Sweden.
They looked at five year survival rates for these patients, who were all diagnosed with lung cancer between 1996 and 2004.
Long-term survival from all countries was relatively low, with English patients the least likely to survive – but it was the survival rates for the first year where marked differences were found.
Depending on age and sex, the chances of a lung cancer patient in England dying in the first three months after diagnosis were between 23% and 46% higher than for a patient in Norway.
And they were between 56% and 91% higher than for a patient in Sweden.
In England, urgent suspected cancer cases should be seen by a consultant within two weeks, although patients still must be referred by their GP.
All too often in this country, cancer is diagnosed later than it should be
Sarah Woolnough
Cancer Research UK
In Sweden and Norway, patients can book directly to see a specialist.
Dr Mike Peake, a lung cancer specialist and one of the report's authors, said he thought the discrepancies in survival rates noted in the study would be similar in 2010.
"We don't know exactly why there are these differences, but my feeling is that it is in large part down to delay in diagnosis.
"At one level this is to do with people not recognising their symptoms, feeling they should not bother their busy GP, or not wanting to be told off about smoking, but there are also doctors who dismiss a complaint as a simple cough."
Cancer Research UK said it was working with the Department of Health and the NHS on an awareness and early diagnosis initiative.
"All too often in this country, cancer is diagnosed later than it should be. This important new study reveals the scale of the challenge for lung cancer in particular, as the difference in survival was more marked in the first year after diagnosis," said Sarah Woolnough, head of policy at the charity.
"Although differences in treatment may play a role, spotting lung cancer early could make a real difference to survival rates."