N20BN CONTRACT SCAM: FASHOLA AND I HAVE NO FEAR — TINUBU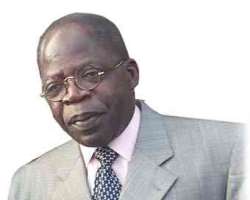 Bola Tinubu
Former governor of Lagos State, Asiwaju Bola Tinubu, has said that he and his successor, Mr. Babatunde Fashola, (SAN), have nothing to fear about the Economic and Financial Crimes Commission's investigation into an alleged N20bn contract scam in the state.
In a statement by his Chief Press Secretary, Mr. Olakunle Abimbola, in Lagos on Monday, Tinubu denied a newspaper report (not The PUNCH) that he and Fashola were worried about the probe.
Tinubu said this as the Chief Executive Officer of Deux Projects Limited, Mr. Olatunji Olowolafe, who was arrested on Friday by the Economic and Financial Crimes Commission, was on Monday released on bail.
The former governor said, 'I can't be jittery over any alleged EFCC probe. I know I served my state well and laid a solid foundation for the renewal of Lagos, ensured prudence in resource management and put in place control mechanisms to ensure transparency and acceptability.
'We were able to attain financial independence for Lagos by shoring up internally generated revenue in the state.'
Tinubu added, 'The progress of Lagos State has been demonstrated and can been seen by all. But can we say the same of PDP-controlled states in the South-West and Nigeria in general? These shameless insinuations are fired by political intrigues. But they would not deter us for insisting on what is right for our people.'
On Monday, a source in the EFCC said that Olowolafe, who was arrested over an alleged N20m contract scam, was released after making useful statements.
The source added that the EFCC had started analysing statements made by the contractor with a view to inviting other people involved in the alleged scam.
The Head of Media and Publicity of the EFCC, Mr. Femi Babafemi, when contacted, confirmed that Olowolafe had been released.
Also on Monday, civil servants at the Lagos State secretariat, Alausa were seen discussing the alleged scam in groups.
Prior to Olowolafe's arrest on Friday, his house and office had been combed by the EFCC operatives, who took away some documents.
A group, The True Face of Lagos, had petitioned the commission, alleging fraud in the contracts executed by the company for the Lagos State Government.
The Chairman of the EFCC, Mrs. Farida Waziri, had a few weeks ago assured that the petition would not be swept under the carpet.
She said that the agency had started discreet investigations with a view to determining the people involved in the alleged contract scam.