FROM SELLING 'PURE' WATER TO CRACKING RIBS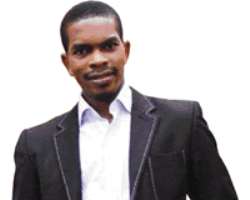 Holy Mallam
Ajibola Adebayo is his name but you'd be forgiven if you've never heard of it because he goes by the name Holy Mallam and he is one of the busiest comedians in Nigeria. Holy Mallam's story is the typical grass to grace story. He started out selling pure water for his mum and stopped his education when his father died.
But today, he is the master of ceremony or the comedian of choice for corporate bodies, the president and governors. In this interview, he reveals how he has carved a niche for himself in comedy and how he has risen to the top of the game without dirty or offensive jokes.
Ten years of clean jokes and ethical comedy, and you are still here. How have you managed not to join the band wagon?
If you join the band wagon you will end complaining about the same things they are complaining about. I have been privileged to understand that if you have a vision, passion and aspiration, you have to stick to them. When there is definition there won't be deviation. I made up my mind to always do ethical jokes either locally or internationally irrespective of how much I am paid. My jokes have to be clean. If they are not clean it is not me and of course God's grace has been sufficient. That is why I am still relevant.
Is this anything about your Christian background?
Yes. As a Christian you are not allowed to do dirty jokes or say vulgar things or say things against your president or your country. A wise man, Bishop David Oyedepo once told me and I quote 'you cannot prosper in a country you don't love'. If you love your country you won't say negative things about your country. My Christian background has really helped. I started from the church and I have not been far from the church.
As it is, you don't only perform in the church, so how come you still carry the church thing outside the church?
I started on the platform of a church and I was privileged to meet the likes of Yinka Craig of blessed memory and Bisi Olatilo. I was able to understand the dynamics of being a compeer and I worked on myself. So besides comedy, I took a step further to become a professional master of ceremony and that has helped me to leave the confines of the church.
I know you have performed for the President's daughter, for governors, and so many other prominent people. How did the little boy that was selling pure water come this far?
The transition between when I was selling pure water and now is a wide one. 11 years ago, I was selling pure water. It doesn't take God one year to change one's destiny. But in my case, I had an ample size of opportunity of over ten years. All those high profile events have not been given to me by my strength ….I think God has just favoured me.
You hear a phone ring and they are asking you to come for this and that event and when you check the magnitude of the event, you see that it is indeed a big one. Like Yar'Adua's daughter's wedding for instance, they had it twice and I was invited twice ….on two different occasions amongst other celebrations. All I am just trying to say here is that it is God who determines how far a human being will go in life and God has been the one responsible for my growth.
Tell me about the period you were selling pure water?
That was in 1999. It wasn't the regular selling pure water in traffic o… I used to distribute for my mum. It wasn't funny. From that pure water money she'll give me N50 to go to LASU then. It really wasn't funny but God saw me through.
You didn't complete your degree programmed at LASU. What went wrong?
I didn't complete my degree programme at LASU. I did a part time programme and along the line, my dad died. There was no money to pay my school fees and I had to stop. All those things happened at the same time and it only took the grace of God to see me through because at some point, I thought of committing suicide. You cannot understand how bad it was by just reading this interview but I thank God I am alive.
Then, I was trained by USAID, John Hopkins University Centre for Development and Population, Basic FHI, Communicating for change etc. They all trained me and brought me out of my shell. What I am today, is a function of what I learnt from those people. Even beyond what I learnt in school, USAID made me more effective. I can now communicate effectively, I can interact, and disseminate information. I became better actually.
Tell me how bad it was?
It was very bad. I remember there was a build up to that time. In 1995 I was a teacher and I was earning N500 a month and I went to do GCE just to make sure I had my complete 'O' levels after secondary school. Throughout the time I was writing GCE 'O' levels I wore bathroom slippers from Okokomaiko to Ajegunle. Then it was bathroom slippers I used to wear, it was that bad.
When did your dad die?
He died around 2001. He had diabetes and the sickness started eating him up since 2000 until he died.
What was your mum doing then?
She was a nurse and a business woman, very industrious and hard working.
When you look back now what comes to your mind?
The only thing that comes to mind when I look back is that God has helped and favoured me. Fashola's wife celebrated her birthday two weeks ago and I was invited, Chief Olu Akingbade's daughter got married and I was invited, when Les Brown came to Nigeria I was invited.
They call me from abroad to come and speak at events. As we speak, there is a letter from the US requesting that I come and speak to people over there. God has just taken me off the dustbin of life and made me relevant and I feel honored. God has helped me to achieve what we call 'self development' and I do my best to read books.
When did you discover comedy or when did comedy discover you?
The gift had always been there, but in the late '90s, friends encouraged me that I could do it. Alarm Blow and Ultimate Mallam used to come to our church then and I thought I could do what they were doing as well and eventually my friends pushed me out. I stood in front of about 3000 people that night, covered my face with a cap because I used to be extremely shy. To God be the glory it worked. If it didn't work I am sure I would never have done it again.
Where was that?
It was in my local church then, Ultimate Power Ministry. That was how I started. Even then, I didn't think I could commercialize it, I just thought it was a hobby.
When did you start taking it serious?
In 2001/2002 thereabouts . I went to Bethel Ajah and I remember that then I used to go and lobby, on campus and campus fellowships, in churches and some will allow me but most did not allow me. So when I went to Bethel in Ajah they did not allow me to do my jokes during the service but they did at a banquet after the service. One woman came from the United States … a Lady Craig.
She was praying and prophesying and I went to meet her and she prayed with me. She asked me what I wanted to do and I said I wanted to be a presenter, a journalist etc and then she just smiled and said the Lord said you should speak on. So from then onward I knew that this is my calling.
So, initially, it was just comedy and later I improved on myself; you know comedy and entertainment attract attention. I also used it as a tool to disseminate the right information to people so that I can also affect lives.


Holy Mallam
So, was that when you started taking it seriously?
Yes.
I know at that time churches were not paying… what motivated you?
Well it wasn't about money; it was about laying the foundation. I used to perform at birthdays, weddings, where they will pay me N500 for a show. But at most of these events, people were happy and that gave me joy too. Gradually I grew up from there and God has helped me thus far, I cannot take N500 again.
When were you paid your first big money?
President Yar'Adua's daughter's wedding was not really a bad one. I did only seven minutes and they paid me well.
How about before then?
Nestle called me for two events: one in Lagos and one in Ibadan and I was paid N20,000. At that time for me, it was huge money.
Was that when you charged your first professional fee?
No; the first time I charged my first professional fee, it was five hundred naira. That was in 2000. That was when I started; then from there, I did a birthday show and they paid me N200 and another one N300. There was one I charged N1,000 and they paid me and they gave me a chicken drumstick.
Aside Yar'Adua's daughter's wedding, which other big comedy show or event have you performed in ?
I can't count… they are many. I have been to Aso Rock once during Obasanjo's regime, I was the MC at Chief Akingbade's daughter's wedding. I was the MC at the Osun State governor's daughter's wedding that was like in 2005/ 2006. I have done quite a number for oil and gas companies i.e Total, Chevron. There was a big wedding too where we had the governor of Lagos State in attendance. I also performed at the First Lady's 46 birthday. I was there. When Les Brown came to Nigeria, I was there both in Lagos and Abuja. I have performed for a lot of companies.
What do you do? Just jokes?
I anchor as MC as well . I even do that more professionally. Bill Cosby is coming to Nigeria and I am going to be one of the MCs in one of the events. It is not just about comedy.
Is comedy or being an MC without sexual and vulgar jokes interesting?
Yes, it is interesting. It is not a must for you to do vulgar jokes. It is not only vulgar jokes that are funny. It is unethical for you to do something vulgar and as a media practitioner, you know those are part of the fundamental things that you should know.
How come you don't relate that much with other comedians ?
We are all busy. I relate with them when I see them. I am a busy person, I am not static. Since Easter I have been busy.
Who are your friends in the industry?
All comedians; as many as I know.
At the very beginning, did any of them give you a chance or encourage you?
Most of the people you call my friends now, hadn't really started then. They might have started skeletally and the only person I knew was Ali Baba and he always encouraged me.
What did he do?
I would go and meet him, he would buy recharge cards for me he would encourage me to work up on this, work up on that.
Do you still talk to Ali Baba?
Yes now.
You want to start a monthly game show; what is it all about?
I am planning to start a monthly show where we will have a peculiar audience. You know, the land is saturated with all sorts. People need to laugh, they need to be happy and that is all we are offering them.
Where are you starting?
At the Events Centre, Ikeja.
Will you be the only comedian in the house?
No! There will be other ones that I will be calling from time to time.
Any music?
Of course. It will be a fusion of comedy and music.
I learnt you want to celebrate your 10th anniversary in a big way?
Yeah in a big way. It is going to be a big one and then later in the year, though we are not disclosing who the person is, we are bringing someone from the UK. It will be a very big one and we will try to make it as affordable as possible. So, you can come in and enjoy clean music and comedy in my celebration of ten years of God's grace and faithfulness.
How long have you been with your wife?
This is my fifth year in marriage. We have two kids, and I am trying my best. God has been helping me.
Are your two kids the first ones?
Ah by God's grace. Two!
Give them times two now?
No o.
Where did you meet your wife?
At one show that T-Laff organized. T-Laff is a comedian as well. That was in 2004. I didn't even know that I was going to marry her. Of course, I started comedy since 2001; so by 2004, I had done four years in comedy, I was close to four years in comedy as at that time.
What was the attraction at the beginning? Was she part of the organizers?
She was part of the organizers and she was at the registration point, so I was just talking to her. There was no attraction initially as my attention was directed at somebody else. It is one of the dynamic ways of life… it is destiny anyway. She is from Abia.
And you are a confirmed Yoruba man?
I am from Ijebu North Local Government. I am also a northerner; my mother is from Niger state.
So around what time did you start planning that you were going to marry your wife?
2004, 2005. Fortunately, when we started as friends , I was looking for a wife, I wanted to settle down, I gave myself an age-limit that at such and such an age I am going to get married and it happened.
And your parents didn't object?
No, None of them did. Nobody could.
How has it been?
All has been good, God has been helping us.
People say when couples start raising kids that it begins to affect the love and romance in the family, how true is this?
Well to an extent, it may be true. Children play their roles, once you give them. Thank God you know what I am talking about. If it is a child, it is better , but when it becomes children ah…but it doesn't affect the relationship, it just consumes time.
Of course there is pressure everywhere; life is not just a bed of roses but we get along easily.
Do you make-out time without the kids?
We just want to start that now. Our last child is still very young, we have to be around her always. But now that she (my wife) has started business, she has gone to work; someone is looking after the kids for her, so very soon maybe we will start doing that.
What does she do?
She is an events planner and she does wedding gowns. She also imports wedding gowns and accessories.
Back to you, what kind of events do you do?
All kinds of events: weddings, corporate events; birthdays, house warming, events generally but I select . I don't go to events where ladies dance, where they smoke and all those things.
Don't you think that you should take the gospel down there?
One can actually take it there but…
But one has to be careful?
Yes, one has to be careful.
How do you balance business, family and life generally?
Each has its own time allotment. Somehow I have been able to balance it. I remember that I used to work from home at a time, then later we got an office, so working from home really allowed me to stay close to my family and all of that.
Tell us about USAID. How did you come about them?
I joined them through my mother when I was frustrated. There was no admission, no job, no nothing. Eventually, I left them because my business is taking a lot of time.
Do you still relate with them?
No. Since the Federal Government joined them it has been different. When we started working with them during the military era but since the democratic dispensation, it has not been easy working with them again. I see them once in a while at functions and they say they are proud of me.