NNPC restructuring: Oil workers call off strike, resume operations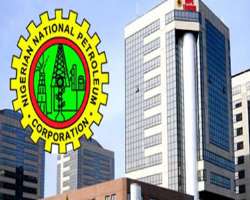 A strike by oil workers under the auspices of NUPENG and PENGASSAN against the restructuring of Nigeria National Petroleum Corporation (NNPC) has been suspended, a union official said on Thursday.
Due to the suspension of the strike, activities have commenced at both the Abuja headquarters of the NNPC and at all its subsidiaries in Nigeria as well as at petrol stations operated by the national oil firm.
Alhaji Tokunbo Korodo, South-West Chairman of the NUPENG made this known to the News Agency of Nigeria (NAN) in Lagos.
Korodo said that the strike was called off after a meeting with the Minister of State for Petroleum Resources, Mr Ibe Kachukwu and the two union leaders.
Korodo said that the minister had assured the unions that the new policy would not lead to job loss in the company.
He said that the workers had since returned to their duty posts nationwide.
"As I am talking to you now, we have called off strike.
'All our tankers have returned to depots and the loading of petrol has commenced.
"The industrial action is not responsible for the scarcity of fuel but shortages at the depots," he said.
NAN reports that on March 8, Kachukwu announced the restructuring of NNPC into seven operational units.
The new units include Upstream, Downstream, Gas and Power, Refineries, Ventures, Corporate Planning and Services, and Finance and Accounts.
According to the minister, the operational units will be strictly business-driven in line with global best practice.
He said NNPC was not unbundled but reorganised to achieve greater efficiency for economic growth.