Stop Pacifying Suspected Killers—HURIWA Tells FG; Faults President Buhari On Foreign Training Of His Children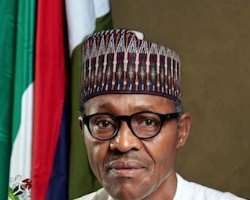 A pro-democracy non-governmental organization- HUMAN RIGHTS WRITERS ASSOCIATION OF NIGERIA (HURIWA) has described as catastrophic and disappointing the inability of the Nigeria Police Force (NPF), theDepartment of State Service (DSS) and other security agencies to arrest the masterminds of the ongoing mass killings of villagers of farming communities in Benue State by suspected armed Fulani herdsmen.
Besides, HURIWAhas expressed shock that the Inspector General of Police Mr. Solomon Arase reportedly met and failed to arrest some representatives of the Fulani's even after reportedly admitting that the killings of hundreds of innocent people of Agatu communities in Benue State was because of the loss of 10,000 cows to cattle rustlers within those communities.
Citing the constitutional duty of the Nigeria Police Force as of the prevention and detection of crime, the apprehension of offenders, preservation of law and order, the protection of life and property and the due enforcement of all laws and regulations with which they are directly charged, the group lamented that the police hierarchy could hold meetings at which open admission was reportedly made of possible culpability in a systematic genocidal killings of farmers by suspected armed Fulani herdsmen and the Police would refuse to round up such persons for further interrogation and prosecution.
In a media statement jointly endorsed by the National Coordinator Comrade Emmanuel Onwubiko and the National Media Affairs Director Miss Zainab Yusuf, HURIWAalso asked President Muhammadu Buharito stop forthwith the foreign educational training of his children so as to lead by example and conserve foreign exchange for Nigeria .
The Rights group rejected the position by President Buhari that his children are schooling abroad because he can afford the high tuitions but others in need of foreign exchange should discontinue the overseas training of their children and wards.
HURIWA has also called for the stoppage of security votes for all heads of the executive branch of government since the continuous use of security votes violates the Nigerian Constitution since they are not captured in the Appropriation Act.
HURIWA stated thus; "we urge President Buhari to show good example by recalling all his children from European schools, and to enroll them in Nigerian Schools unless the president has no confidence on the local educational system".
HURIWA recalled that in a just aired television interviews by Al Jazeera television, President Buhari said those who could afford their children's school fees abroad could continue to pay but the country could no longer afford to give them FOREX.
"Those who can afford it can still afford it. But Nigeria can't allocate foreign exchange for all those who have decided want to send their children abroad to study. We just can't afford it. So, it's a tough law. Well, that's the true situation we are in."
HURIWA said the continous sponsorship in European Universities of the Children of Mr President by the First Family is a direct slap on the credibility and integrity of our national educational institutions.
Disclaimer:

"The views/contents expressed in this article are the sole responsibility of

Emmanuel Onwubiko

and do not necessarily reflect those of The Nigerian Voice. The Nigerian Voice will not be responsible or liable for any inaccurate or incorrect statements contained in this article."
Articles by Emmanuel Onwubiko