Lagos mulls total ban of Okada over insecurity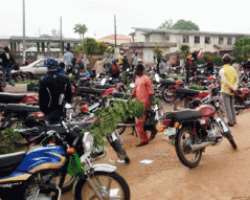 There are emerging indications that Governor Akinwunmi Ambode is disposed to imposing a total ban on commercial motorcycles, popularly called Okada, in Lagos State.
The move as gathered is not unconnected with the Thursday clash in Ketu-Mile 12 area of the state, allegedly triggered by a dispute between an Okada operator and a passersby, which led to loss of lives and property worth millions of naira.
A confident source at the Government House, Alausa, at the weekend, said Ambode was under pressure and may approach the state House of Assembly to amend the law restricting Okada on some routes to total ban of their operations in the state.
Recall that the administration of Fashola had signed the Lagos Road Traffic Law 2012, which restricts Okada in at least 492 of the 9200 roads across Lagos in an effort to reduce the menace of their operations in the state.
The source said Ambode was not comfortable with the flagrant abuse of the law by Okada riders, coupled with reports of robbery incidents in recent times allegedly perpetrated with the use of Okada.
Don't forget that there is a law on ground that restricts them on certain routes in the state but they have not been adhering to the law.
They always find a way to circumvent the law and government has a duty to safeguard innocent lives. Most of them drive against traffic during the day and at night; so, government is weighing the option strongly that the best thing is to ban Okada outrightly and it is in the interest of the state to do so", the source added.
-Emmanuel Ikechukwu