MY LIFE AS REDEEMED CHURCH PASTOR -Intercontinental Bank Boss Erastus Akingbola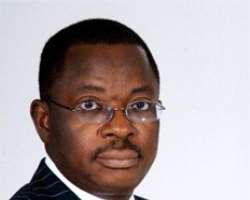 Many people don't know that the managing director of wave-making intercontinental Bank, Mr. Erastus Akingbola is a born again Christian and Redeemed Church Pastor. We heard that the top banker cum man of God runs the strong financial institution with all sense of sincerity and fairness to all, no matter your status.
For instance, if a security guard or driver is seriously ill and needs to seek medical attention abroad, intercontinental Bank under his leadership will fly the staff overseas for the treatment and foot the bills. This explains why the bank staffs are so committed and passionate about their job. We were told that the boss adheres strictly to the basic principle of 'Do unto your neighbour as you want them to do unto you'. He is very careful about the way he treats both customers and workers of the bank. Also, he takes the statement made by Jesus Christ that we should not be sinful in our business very serious. He also observes that parables of returns and rewards as stated by Jesus Christ in the Bible.
We gathered that top banker confessed recently that most of the things he reads in the Bible help him to run the bank. Also, we gathered that doesn't joke with Redeemed Church activates. For instance, he goes to church on Saturdays for Sunday school review and ministers meeting. On Sundays, he leaves his home for church by 6:30am to start workers meeting. Thereafter, he attends kiddies Sunday school. After that, he goes back to school till 1pm. Then he comes back for evening service. He also travels across the world preaching and winning souls for Christ.
Now for those who do not know, brilliant Erastus Akingbola and others started Intercontinental Bank in 1989 at Berkley Street, Lagos. He was 38 years old then as the CEO. Today, the bank has 12 subsidiaries, 370 branches and 12,000 members of staff.
TOP CELEBRITIES TUESAY APRIL 21, 2009 PAGE4