The Plot Against APGA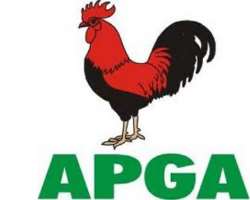 It has been on the news which was peddled by some elements in and outside APGA. Any social media critic that writes against APGA would be celebrated and adored. People are making money and unwholesome fame by castigating the existence of APGA and APGAns.
Some people got their economic empowerments by fighting to halt the growth of APGA and APGAns. But the obvious truth is that APGA is the only party that represents the interests of Igbo Nation and Nigeria in general. Nothing can be done to extinguish the party from the Nigerian political environment for now.
I vividly remember the foundation days of APGA which was then known as United Progressive Grand Alliance (UPGA) which was under the leadership of Chief Chekwas Okorie, how we were managing to mobilize our people to join the party. Chief Chekwas Okorie who was the President of Igbo Ezue Cultural Organization which formed the foundation of our dear party, Chief Dr Umeano who was the Campaign Chairman of Mr. Peter Obi, Paul Achalla, Chief Chukwuma from Nkanu West, Paschal Nnorli, Engr. Elo Ojimba and Hon Chief Uche Anedu who is the current Deputy Chairman of Aguata LGA and my humble self were suffering to consolidate the party. Chief Victor Umeh later joined us in the struggle.
We contributed our widow's might and got the first National office which was situated at AKALAKA house at Chime Avenue. The brotherhood and the love were there for us. We used to visit each other's house with great love and happiness.
When Peter Obi joined APGA from PDP when they refused to give him the ticket to run for governorship, we received him with open mind and love. He quickly made his intention known which we harmonized it with those of us that have the same intentions. There were no hassles, no acrimony and no agony. Dr. Umeano was appointed the DG of his campaign organization and things were moving as expected in the brotherhood spirit. We prosecuted the general election but it was rigged in favour of PDP which fraudulently produced Chief Chris Ngige as the governor, as spearheaded by Chief Chris Uba. We went to court challenging the election and eventually triumphed.
On the course of the struggle, it was discovered that the some National officers were compromised by the PDP to sabotage us. We set the fire and the flame to fish them out and it was led by our youth stage holder then who was Comrade Edozie Iyinbor. This was how Chief Victor Umeh who was the National Treasurer became the acting National Chairman of the party. The matter moved from boardrooms to courtrooms. The legal fireworks lasted for years but were later vilified by the courts.
Under Chief Victor Umeh, APGA grew from strength to strength. The horizons of APGA were broadened. We captured more states and more national assembly legislators and state assemblies in the north, south-south and south east. We grew from 12 members to millions of members. Under Victor Umeh, APGA moved from ordinary political party to Brotherhood movement. APGA became a party of choice in Nigeria. Under Victor, movers and shakers of political movements in Nigeria jostled to become APGA members. Under Victor Umeh, APGA produced political gurus that would sustain the party. Victor Umeh made serious and sustainable succession plan for APGA.
During the 2011 general elections, it is on record that Chief Victor Umeh was the only National Chairman that functioned as a local government party collation agent in Mbaitoli LGA election re-run. He marshalled out the job creditably well and got the desired victory for our party. He refused to be intimidated by the Brigade Commander of Nigerian Army, Obinze. He refused to be intimidated by then Commissioner of Police Imo State Police Command. He refused to be bulged by then State Director of DSS. The federal might brandished armoured personnel carriers (APC), but he stood tall which got us victory against PDP. Chief Martin Agbaso and many APGA political heavy weights in Imo State ran away when the heat from the federal might was too much. He believes in the due process and promotion of equity and justice at all times.
But on the course of carrying out his duties as the National Chairman, he stepped on many people's toes because he wants everybody to do the right thing as provided by both the constitution of the party and Nigeria. People started seeing him as a trouble maker. Opposition parties in Nigeria feared the name Victor Umeh because of his consistence, insistence and persistent cries for the political game to be played according to the laid down rules.
In Nigeria, people play politics with impunity. They rig elections and ask you to go to court. They stay in office and bribe the judges and sometimes get judgments. But Chief Victor Umeh is such a man that would fight his case to a logical end and he must emerge victorious.
His sin is that he is a vocal advocate of 'DOING THE RIGHT THING'. People started misunderstanding him. People started castigating him. People started generating and engineering hatreds against him. But he was not deterred. He fought on and insisted that there must be a paradigm shift to better political activities both in the party and the national political environment. That is why he went to court and challenged the process that brought Uche Ekwunife and the fraudulent election that made her a senator. And he got judgment in his favour. In attainment of successes in life, there must be many thorns and detractors. Those detractors usually come from those you help to attain certain goals. Chief Victor Umeh is not an exception. He was the most misunderstood National Chairman. He was the most abused politician after Jonathan. He was accused of unprintable things. Some of his aides even didn't help matters at all. The people he recommended for political offices not only worked against him but give people inconsequential information to publish against him. Even those of us that are pointing accusing fingers on Chief Umeh, they should bear in mind that nobody is a saint and there is no perfect man. The Bible said that the just shall live by faith and it manifested in Chief Victor Umeh's case.
As at today, Chief Victor Umeh has apologized to everybody who felt wronged in the course of carrying out his duties as the National Chairman of our great party.
APGA needs Umeh to represent us at the hallowed chamber of the National Assembly. An enemy within the party is better than a friend outside the party. We must always reconcile within the party and forge ahead. LET US ALL JOIN IN THE RECONCILIATION PROCESS. If we work against the decision of the party, we are invariably working against the party. Let us remember that the party decision is supreme.
Chief Umeh is a vocal and fearless Igbo man that believes in even and equitable governance of the nation. He believes in the equality in the face of law. He is a very prominent Christian and a man with a very large heart. He is the man to beat.
LONG LIVE APGA! LONG LIVE ANAMBRA STATE!! LONG LIVE NIGERIA!!!
Kokoronkooooooo Chi efoooooo!
Written by Odaa Opuo
APGA Nigeria
+234 815 913 6505
www.fb.com/apganig
www.apganigeria.blogspot.com
"Be Your Brother's Keeper"