Pandemonium In FMC As Another Lassa Fever Patient Die In Delta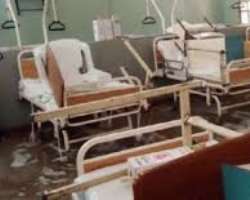 The Federal Medical Centre (FMC), Asaba, Delta State was thrown into chaos Friday when the news of death of another Lassa fever patient at the emergency ward broke out, causing bedridden patients in the federal health institution to take to their heels as doctors battle to bring the patient out of the ward.
Our correspondent who coincidentally was at the hospital to visit a sick colleague saw patients and those taking care of them flee the ward and headed to the main entrance gate to avoid possible contact with the dead Lassa fever patient whose case occurred at about 2: 00pm.
It took the efforts of the health personnel with protective coverage to remove the body from the wards while patients who fled their wards were later asked to come back to their various wards and were given medical face masks including their visitors to cover their nostrils after a dramatic 20 minutes of run for your life.
Confirming the incident, a top hospital management who pleaded anonymity said he can't speak further on the matter, disclosing that all information has be given to state Commissioner for Health, Dr. Nicholas Azinge, "only him can speak on the matter", he added.
Patients and their visitors who witnessed the stampeding clustered in groups discussing the risk of staying in the hospital to avoid contacting another disease alongside the existing one they are already suffering from.
Effort made to reach Dr. Azinge, the Health Commissioner to ascertain if the decease is among the 22 quarantine patients in the state proved abortive as phone calls and text messages sent to his cell phone were not reply.
It would be recall that a 65 years lady has died of the dreaded disease while 22 others are under surveillance in the hospital.
Nice and tidy.