Mercy Aigbe Now uses Waist Trainer?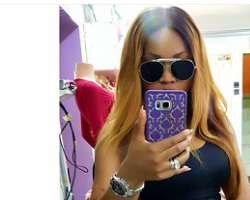 Nollywood actress, Mercy Aigbe, is not slacking at all as she continues to invest more into her business as the demand continues to come in.
Aside just selling wears and other accessories, the actress has moved her boutique to another level as she now sells waist trainer which seems to be on high demand recently.
Aside just selling it, the actress decided to try it herself to see how it feels and the shape she got is somehow funny though.
Hey, the mama has got good shape so there is no need for that.