Rivers PDP Chairman, Bro Felix Obuah Congratulates Gov Dickson, Bayelsa People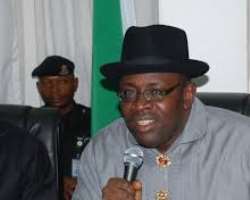 The Rivers State chapter of the Peoples Democratic Party, PDP has congratulated its Bayelsa State counterpart and Governor Seriake Dickson for emerging victorious in the State governorship election decided over the weekend.
A goodwill message by the State chairman of the PDP, Bro Felix Obuah and signed by his Special Adviser on Media and Publicity, Jerry Needam, said the PDP's victory over the desperate All Progressives Congress, APC is a political statement that the PDP remains a grassroots party and the people's first choice notwithstanding the politics of intimidation and coercion being employed by the APC to thwart the will of the people.
Bro Obuah also commended the people of Bayelsa in a very special way for their steadfastness and resilience against all attempts to silence the voice of the majority that eventually settled the month-long election impasse in favour of the largest party in black Africa, PDP.
According to the State PDP chairman, all the party wants is a conducive environment and level playing ground for any political context notwithstanding the level, stressing that the PDP will always be on top of the heap.
He enjoined the people of Bayelsa generally, numerous PDP members and faithful to key into the developmental agenda of the Dickson administration for the overall development of the water-locked Bayelsa State and also remain vigilant and alert to the APC propaganda and antics so that they are not deceived any more.
The APC, Bro Obuah said, has no plans for the Bayelsa people other than to further impoverish the State by conniving with their paymasters at the centre to liquidate the remaining State resources.
The State PDP chairman expressed enthusiasm and confidence that same electoral victory will be replicated in the re-run National and State elections in Rivers State to further prove to the opposition politicians in the South-South there the region is roundly and irreversibly PDP.
"We are indeed, proud of your efforts and insistence on your rights to have the kind of leader you want. The Almighty God that heard and granted your prayers will never fail you. The PDP is now wiser and has no alternative to improved welfare of the people and the infrastructural development of the State", Bro Obuah declared.
Jerry Needam, JP
Special Adviser on Media and Publicity
To the Rivers PDP Chairman, Bro Felix Obuah
Monday, January 11, 2016.