Ugwuanyi promises to look into gruesome murder of Enugu-based lawyer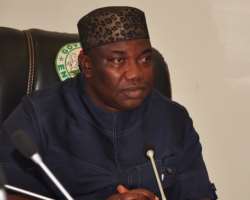 Governor Ifeanyi Ugwuanyi of Enugu State yesterday visited the site at Okwojo Ngwo in Udi Local
Government Area where a prominent lawyer in the State and the Executive Secretary of the Movement for the Actualization of Adada State, late Barr. Ejimofor Ozongwu was brutally murdered by yet-to-be identified hoodlums following a land dispute, promising that government will look into the
matter and take decisive decision in order to forestall further occurrence of such dastardly act.
The governor who was accompanied to the site with the member, representing Enugu North/South Federal Constituency in the National Assembly, Hon. Chime Oji, the former Minister of State, Foreign Affairs, Chief Dubem Onyia, former State Commissioner for Justice, Chief Anthony Ani, SAN, and other leaders of thought in the area, described the late lawyer as a good citizen of Enugu State who had championed the course for the creation of Adada State.
Ozongwu, a lawyer, who was in his late 50s, was reportedly killed over a disputed piece of land in his village, Okwojo Ngwo, near Enugu at about 2pm.
Speaking at the visit, a community leader, Ozo Ramsey Onyia described late Ozongwu as a "liberator to the community", adding that what happened to him was beyond the issue of land dispute.
Sponsored Advert:
VACANCY! VACANCY!! VACANCY!!!
Job Position: Chief Accountant at an Agro-Allied Conglomerate in Delta State
Click here for details
He said that the late lawyer had been protecting the interest of the villagers from the early 90's, especially the down trodden and expressed confidence that the governor's visit will go a long way to address the issue to the satisfaction of the people of the community and the general public at large.
In his remark, the former Minister, Chief Onyia thanked the governor for the visit and his reassurance
to the community that justice will be done and such incidence will not reoccur in the State.