A journey back to the roots: "Ijinle" by WeWe Clothing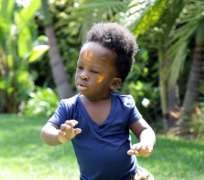 By Dayo Adepoju
WeWe Clothing glams the kids with its new collection "Ijinle" . The delightful collection consists of the cute, trendy pieces in patterns that are easily identifiable with children, making the collection fun, playful and reflective of the cheerful spirit of curious kids!
Designer, Folake Kuye Huntoon, talks more about the "Ijinle" collection:
Collection
"Ijinle" in the Yoruba language means "the roots", "authentic", "ancestors", so many significant and powerful meanings that represent my vision for this collection and for WeWe Clothingas a company. I tend to be really raw and above all, take pride in being an Ibadan girl. For the first time, my husband, 3 kids and beautiful niece visited Ibadan in Nigeria and it was an organic experience. Obviously, it was a bonding one too, it was the first time my family had a chance to see me in true cultural context. The inspiration just came pouring, and as I was there to enjoy and have a good time with my family, I was also taking notes and sketching my next collection for WeWe. It shaped my direction. I knew I had to not only re-focus, but re-brand as well.
Fabric
I chose to use all Ankara fabrics for this collection. In the past, I have mixed Ankara with western fabrics, lace or aso-oke even. This time, I didn't want to mix. I just wanted to dedicate this to Ibadan, my homeland. Both my parents are from there, and we all re-united in the same city where it all began and where they met. I observed that on the streets or just in general, everyone (adults & kids) had on Ankara with different beautiful designs, patterns and colours.
The Future
Well, we are really happy with the brand right now.We want to get better with every collection, we want to expand our sizes too because right now, we stop at size 5/6. Also, we are working on global expansion and on several non-profit projects. One of them is with American Red Cross of Los Angeles for the people of Haiti, and another is a sickle cell foundation, in which we are trying to focus on Nigeria; orphans with sickle cell disease, and kids with sickle cell in general. We have a lot going on, it's an exciting time.
View the "Ijinle" collection below:
WeWe Clothing
8950 W. Olympic Blvd.
Suite 505
Beverly Hills, California
90211
310-927-2011 – Phone
Story by nollywoodgists.com