Police Men Exploiting Motorists At Alaka On Ikorodu Road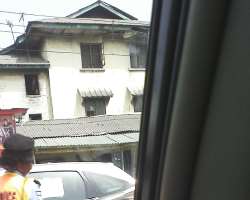 These policemen are currently at Alaka on Ikorodu Road demanding bribe from motorists. They just exploited myself and Mofolusade Sonaike they said we didn't have Road Worthiness paper.
In an attempt to search for it, because we were with driving grandma's car, the police man who rushed us threatened us if he didn't get something from us. He ended up collecting 5k from us.
Upon calling a family friend, we were informed that it's not the duty of the police to demand Road of worthiness. These policemen are everywhere viciously exploiting people.
It's Christmas and they mean business.
Respected and concerned authorities, Inspector General of Police should see to these.
This was not the change we voted for.
Monkey dey work, baboon dey chop. Spread the word.
They must pay for this.
Disclaimer:

"The views/contents expressed in this article are the sole responsibility of the author(s) and do not necessarily reflect those of The Nigerian Voice. The Nigerian Voice will not be responsible or liable for any inaccurate or incorrect statements contained in this article."