Political Killings: PDP Urges Police To Invite Rivers APC State Chairman For Explanations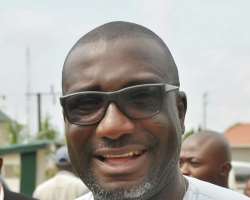 The chairman of the Rivers State chapter of the Peoples Democratic Party, PDP, Bro Felix Obuah says by the comments of Mr Davies Ikanya, the State chairman of the APC while addressing newsmen on its recent black Monday protest in Port Harcourt has admitted he knows the killers of some of the victims he claimed lost their lives during the 2015 general elections across the State.
According the Bro Obuah through a statement signed by Jerry Needam, his Special Adviser on Media and Publicity, Mr Ikanya did not mince words when he admitted he knows the killers of one Christopher Adugbe, his two children and driver and therefore owes the police the responsibility of providing clues to those who committed this heinous act and should be invited and interrogated for details.
Describing Mr Ikanya's sweeping allegations on the cause and identity of the killers of Mr Adugbe and family as one too many, the State PDP boss said Mr Ikanya should not continue to hide under the cover of the APC to malign and commit all manner of criminalities against the State and the citizens.
Noting that the killed politician, and APC convert as alleged by Mr Davies Ikanya was never an Andoni man as he, neither did the incident take place in Andoni, Mr Ikanya's claim should therefore not be taken lightly or considered inconsequential and need further explanations to enable the police unravel this mystery for the benefit of all Rivers people, Bro Obuah stressed.
The State PDP chairman however wondered why the APC chairman should have such crucial clue to the abominable blood-letting that caused so much anguish to the Ogba people in particular and the State generally, yet he chose to go about the streets of Port Harcourt to celebrate when the logical thing to do would have been obliging the police the necessary assistance to arrest the culprits to serve as a deterrent to others.
He also challenged Mr Davies Ikanya to stop being cowardly and be man enough to State his facts rather than revel in casting aspersions on his superiors to please his paymasters.
"Mr Ikanya should also realize that great minds are preoccupied with serious issues for the progress of the society while idle minds keep even night vigils discussing great men. This is the bane of the APC in Rivers State, so the earlier he realizes this, the better for himself, his party and the generality of Rivers people", Bro Obuah declared.
The Rivers State chapter of the Peoples Democratic Party again absolves the State chairman of the Party, Bro Felix Obuah, the Governor of the State, Barr Nyesom Wike, other leaders and members of the party from any murder case or criminality in State.
Signed:
Jerry Needam, JP
Special Adviser on Media and Publicity
To the Rivers PDP Chairman, Bro Felix Obuah
Tuesday, December 8, 2015