Akunyili: President Yar'Adua Spoke With Vice President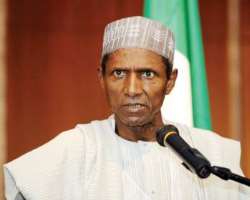 San Francisco Jan 6, (THEWILL) - Nigerian Information Minister Professor Dora Akunyili told THEWILL in a conference call on Wednesday afternoon PST that Nigeria's ailing President Umaru Yar'Adua spoke with Vice President Goodluck Jonathan at 8.pm on Tuesday.
"The Vice President informed us at the Federal Executive Council meeting that he spoke with the President."
When we pressed her for details of the conversation between the VP and the President, she said no details were given. Also on whether the President spoke with any other prominent Nigerians as speculated he would do apart from the trio of VP, Senate President and Speaker of the House, Akunyili said, "No I can not confirm that."
Some Nigerians are still not convinced that the President actually spoke to anyone on the phone. Those who contacted us either via facebook messages, emails and phone calls maintained that if the President is actually healthy and fit, he should address Nigerians, to clear the air.
Umaru Yar'Adua has been in a Saudi hospital since November 23, 2009 receiving treatment for a heart condition and information on his health has been shrouded in secrecy.
The Vice President Goodluck Jonathan has been unable to perform executive functions because the President has refused to transmit a letter to the leadership of the National Assembly.
The Nigerian Bar Association, Mr. Femi Falana and two former members of the House of Representatives have filed charges to compel the President to transfer power.
A Federal High Court Judge adjourned hearing for all the cases to January 14, 2010.
Meanwhile Nigeria's former president Olusegun Obasanjo refused to comment on the ailing President's health when reporters met him at the presidential wing of the M.M airport on his arrival from Togo on Wednesday. Instead he joked with reporters demanding they give him his Christmas and New Year gifts. Some of the questions to the former president were; "Is Umaru alive?" "Have you spoken to him?" "What is your reaction to Nigeria's listing on the US terror list?" etc.
|
Article source