ANAMBRA S'EAST PDP, OGBULAFOR SET FOR SHOWDOWN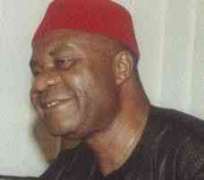 National leadership of the Peoples Democratic Party (PDP) and the South East Zone of the party appear to be heading for a showdown over disagreement on the terms of reference handed down to the newly constituted Anambra State Caretaker Committee of the party.
The National Chairman of the party, Prince Vincent Ogbulafor had recently set up a caretaker committee led by Mr. Cosmas Agagbo to oversee the affairs of the party in Anambra State following the expiration of the tenure of the previous committee which was headed by Professor Osita Ogbu.
Ogbulafor had ordered the committee to, within 10 days, constitute a five-man caretaker committee in each of the local government areas of the state which should in turn liaise with the state caretaker committee to constitute five-man Congress Caretaker Committees (CCC) in each of the wards.
But the leadership of the party in the South East Zone, led by Chief Olisah Metu has kicked against the idea, and directed the committee to put a halt to the plan to reconstitute the leadership of the party at the local government and wards levels in the state.
A statement by the National Vice Chairman of the party in the zone, Chief Metu, yesterday, said the South East leadership had resolved that the re-composition exercise be suspended.
According to the statement, 'the South East zonal leadership has directed the caretaker committee to suspend the composition of the local government caretaker committee.
'This is to enable the state caretaker committee to conduct wider consultations and involve the national and state assembly members as well as past and present PDP ministers from the state.'
It added: 'Former National Assembly members, Speakers, state chairmen, national and zonal officers must be consulted,' warning that 'due care must be taken by the caretaker committee not to breed any new crisis in Anambra PDP.'
The zonal leader maintained that 'the success or failure of their tenure is entirely in their hands and they are wholly responsible and answerable for all their actions. The zone believes that it is only with consultation and consequent enthronement of fairness, equity and justice that the PDP can regain its lost glory in Anambra State.'