$7.5m Ken Saro-Wiwa Centre Endowment
............Ogoni Ken Saro-Wiwa $7.5m Endowment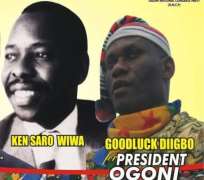 "The Ogoni people demanded for freedom, we now have it. I urge Ogonis come together. Let's reason together to overcome slavery and advance our cause for freedom," says Dr. Goodluck Diigbo, President, Ogoni Central Indigenous Authority. He said this Sunday, August 2, 2015 in a speech at the Ken Saro-Wiwa Peace and Freedom Center, Bori, to mark to third anniversary of the Ogoni Self-Government Declaration.
The Ogoni people had declared self-government on August 2, 2012 to defend and exercise their indigenous rights as well as preserve their ancestral heritage.
"The Ogoni Self-Government, is a work in progress. Our self-government was born three years ago, August 2, 2012. Like a new born baby, it started to learn how to sit. Then, it began crawl, walk, and jump. Of course, today, it is singing, and also dancing," he said.
"Following the swearing of our democratically elected leaders on January 4, 2015, our self-government continues to slowly mature, and has gained momentous ground. During the period of January 4 to August 2, 2015, we have carried out significant documentation from village to village. The documentation that is essential for the development and maintenance of our distinct political, legal, social and cultural institutions," he remarked.
"Still, as the Ogoni nation; we the people, continue to retain our right to participate fully, if we so choose, in the political, economic, social and cultural life of Nigeria. The choice, which is offered to us, by Article 5 of the United Nations Declaration on the Rights of Indigenous Peoples. The documentation is to continue, after which we will turn a new page," Diigbo said.
He announced the establishment of Ken Saro-Wiwa Peace and Freedom Center Endowment. The Endowment will receive donations in kind and cash for the ongoing development of the Peace and Freedom Center, Bori. The Fund is established in pursuant of articles 17, 22 and 31 of the United Nations Declaration on the Rights of Indigenous Peoples. Particularly, in the area of providing enlightenment, entertainment, promotion of friendship, exchange of ideas and sharing of knowledge.
The President of the Council of Ogoni Churches, Rev. Sir Mike Ibirah is the chair of the Endowment Planning Committee, while Reverend Favour Nwinaka Aluale will serve as secretary. The Head of the Presidential Agency for Women Empowerment, Hon. Alice Nwinee. Hon. Beabubari Ndorbu, will serve as the assistant secretary. Other members of the Committee will be announced later.
The committee has a month to conclude the planning preliminary studies, will provide non-permanent employment for over 2,500 Ogonis and other technical experts that may not necessarily be from Ogoni.
A $7.5m fund launching will be organized towards the implementation of the project. The first phase will include fencing, an amphitheater, children playground, recreation facility for the elderly, offices for civil society organizations, and international NGOs.
Rev. Favour Nwinaka Aluale
Secretary, Ken Saro-Wiwa Freedom Center Endowment