Peter Obi: The Betrayal Continues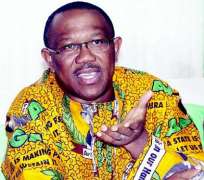 Abuses, threats and senseless replies from pro-Obi gang of online thugs won't stop me from dishing out what I have in stock.
Truth be told. The former governor of Anambra State isn't the first Peter to exhibit the "denials" trait neither would he be the last. All Peters even in the Bible lived such life. They deny and betray with pleasure.
When Chief Victor Umeh started crying about betrayals by Obi, no one listened.
When Ojukwu's followers cried about Obi betraying their inheritance, no one listened.
When APGA faithful cried about Obi betraying their party by joining PDP, no one listened.
Today, Peter Obi has succeeded in betraying President Goodluck Jonathan. Apart from supervising his down fall in South East, he reportedly pocketed larger part of the fund released by Jonathan for his re-election.
Obi's defection to APGA was thought to be the last act of denial with only few followers left to adore the supposed Igbo Leader, many of them being persons far away from the man in question.
In defence of his defection, Obi with his aides and misinformed followers tried via image laundering and propaganda to force us into believing that his mission in PDP is in the best interest of Ndi Igbo.
The gullible public believed him but anyone who followed Obi through his reign in APGA and his heartless defection would bet with his life that Peter was on a selfish mission.
As Ndi Igbo waited to receive the national cake from Peter, he jettisoned the Igbo interest by using all the institutions of the state to intimidate and rig the National Assembly elections in an attempt to kill APGA, a party that slaved for him for 8 years. He lost focus of the Jonathan agenda for selfish interest in Anambra Central Senatorial Zone.
Lo and behold, Jonathan lost and his Abuja mission for "Igbo Interest" got aborted.
A wise man would have eaten the humble pie, gone home and seek for forgiveness but Chief Obi with his media aide and gang of online jesters continued the free fall packaged as "hope" in search of anything called appointment.
Finally, Chief Peter Obi has arrived with the Igbo internet.
Yes, he has got the Chairman of SEC as the Igbo Interest.
His betrayal and defection from APGA was for Chairmanship of a mere Board.
Shame! No wonder Valentine Obienyem could not summon the courage to announce the new post.
Kinsley Udemezue
Take It or Leave It!
Disclaimer:

"The views/contents expressed in this article are the sole responsibility of

Ndi Anambra

and do not necessarily reflect those of The Nigerian Voice. The Nigerian Voice will not be responsible or liable for any inaccurate or incorrect statements contained in this article."