AC, OYINLOLA TRADE WORDS OVER N18.3BN LOAN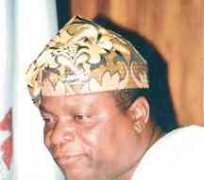 The Action Congress has faulted the proposal by Osun State Governor Olagunsoye Oyinlola to source a N18.3bn loan.
A statement by the Director, Research and Strategy, Osun AC, Mr. Sunday Akere, on Wednesday, alleged that the motive behind the loan was questionable.
He said that the proposal was contained in the government's letter to the House of Assembly.
Condemning the proposal, the AC accused the state government of attempting to commit the future of the state to a 'financial guillotine,' adding that the timing of the loan raised moral questions.
The statement said Oyinlola decided to take the loan in order to leave heavy financial indebtedness for his successor.
Akere said, 'Osun AC urges the state House of Assembly to compel the Oyinlola government to furnish it with details of projects it intends to spend the loan being sourced for.'
The opposition party called on the House not to approve the request by the governor to source the loan, stressing that the state government had no template to manage funds judiciously.
The AC urged the people of the state to rise against the decision of the state government to obtain the loan, saying that the move would impoverish the state.
But, Press Secretary to Oyinlola, Mr. Kayode Oladeji, in a telephone interview with our correspondent, said the state government had engaged in several capital-intensive projects such as the Free Trade Zone and airport construction.
He said several infrastructural projects were ongoing in education, works, health, water and agriculture sectors.
He said, 'Governments everywhere are groaning under financial stress; the Osun State Government will not mind financial leverage to make sure that its numerous projects are well-footed.
'The AC is at it again. Oyinlola's government is not owing anybody, it has paid all salaries and pensions. Oyinlola cleared the debt of over N2bn which the Chief Bisi Akande administration owed in gratuity and pensions. The governor has promised not to leave any project uncompleted.'