Barr. Razak Atunwa Accepts Victory, Promise Improved Development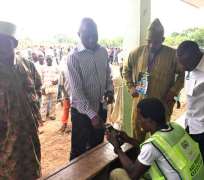 I'm grateful to have received surpassing support from the people of my constituency (Asa/Ilorin West Constituency) in the House of Representatives elections which led to the victory of our party, All Progressive Congress, scoring 58,227 votes against the PDP 31,469.
This landslide victory was recorded because the people have reaffirmed the spirit that has triumphed over insecurity, poor economy, unemployment, disrespect for the rule of law among other social menace unleashed on Nigerians by the PDP, the spirit of change! This spirit is changing Nigeria from the depths of poor leadership to the great heights of hope, where we become a pacesetter among nations in remarkable developments.
Our victory in this election is not a sudden event, it is an outcome of committed efforts to the wellbeing and development of our constituency in years when there were no elections. The massive votes is an expression of confidence the people have in my candidacy, our great party APC and it's leadership. Today, the people of Asa and Ilorin West, and Kwara as a whole reminded us that while our road has been hard, the Kwara state leadership of the day have fought for the people tirelessly, giving lasting hope in our hearts that the best days of Kwara and Nigeria is yet to come.
I want to specially thank the leadership of our party, APC and its passionate members at all levels for the unrelenting will for change. I want to also thank supporters and volunteers who have traded their individual daily plans at one time or the other, to support me during the campaigns. Their commitments cannot be disconnected from the success recorded today. You'll hear the pride, patriotism and determination in the voices of our supporters who went from door to door, street to street, town to town doing incredible works because they believe in the change mission.
More also, I want to thank everyone in my constituency who participated in this election, whether you voted for the very first time or waited in long queues for a very long time, or you convinced a voter for change, you all made the difference we made today.
Being the Representative of Owode/Onire Constituency and Speaker of Kwara State House of Assembly since 2011, I have contributed to the upliftment of our state through solid legislative conduct. Over 40 bills that address salient areas were passed into law among others. With this wealth of legislative experience and achievements, been elected to represent my constituency at the House of Representatives affords the opportunity to perform better on a national plane, sponsor bills that will improve the living of Nigerians and represent the people of my constituency with determination and fairness.
Not all votes for APC in my constituency but the majority did, I have been elected to represent the constituency regardless of party difference. I promise to focus on representing the interest of all without sentiments. Empower the people, facilitate employment for our youths, give scholarship to students, cooperative system for our women, infrastructural development among others. My goal is to make our constituency a respected and admired constituency around the country, a constituency with the best human resource and development records in Nigeria.
As we anticipate the results of the presidential election, I urge Nigerians to remain calm and vigilant. I'm confident that the victory is certain for General Muhammed Buhari because Nigerians have decided for change.
Once again, I thank you all for your support.
Signed
Barr. Razak Atunwa
Speaker, Kwara State House of Assembly and House of Representatives Member Elect, Ilorin West/Asa Federal Constituency.