Home in Exile now showing @ the Cinemas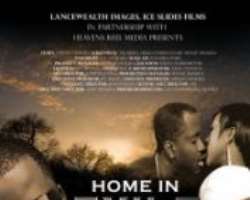 Home in Exile, the big budget film directed by Lancelot Oduwa Imasuen has berthed at the Cinemas nationwide, after a very colourful and well-attended premiere. Speaking on the success of the premiere and why he decided to storm cinemas with the film, Imasuen, with over 100 Nollywood movies to his credit, as a director, said the premiere was a pointer to the fact that Nollywood has fully bounced back. He further explained that by hitting the cinemas, movie buffs will have the opportunity of watching and applauding a true Nigerian story based on hard work and perseverance.
"Home in Exile, was shot last year and premiered first at the Odeon Cinema, London. The world premiere was graced by both Nollywood and Hollywood stars. We just had another well attended and star-studded premiere in Nigeria recently. The essence of the premiere was to allow Nigerians see this movie and know that there is no place like home. It's our own little way of helping to rebrand and reposition the battered image of Nigeria. Parents and their children, especially those living abroad, have a lot to learn from this interesting movie", he posited.
Speaking further, Imasuen declared that the film is now showing at major upscale cinemas nationwide. "We are already showing at Silverbird and Genesis Deluxe Cinemas nationwide and the response from the movie loving public has been exceptional. This is a new era and we are following global best practices inherent in the film world. We want to change a lot of bad practices in Nollywood with Home in Exile and that we have already started this 2010. We are redefining standards in Nollywood that I can assure you".
Produced by Lancewealth Image in collaboration with JJ Barry Entertainment, Home in Exile, a heart wrenching story of the excruciating pains and untold hardship and harassments that Nigerians living abroad go through as well as the challenges they face at home, aptly tells the true Nigerian story. Notable Nollywood stars in the movie include: Justus Esiri, Desmond Elliot, Uche Jombo, Chimwetalu Agu and several others.
Story by nollywoodgists.com