RUSSIAN PRESIDENT VOWS TO DESTROY BOMB PLOTTERS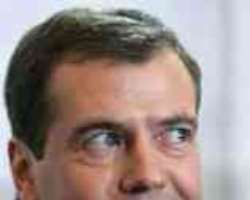 President Dmitry Medvedev
President Dmitry Medvedev made a surprise visit to the North Caucasus region of Dagestan on Thursday and said Russia must destroy those behind suicide bombings that killed at least 50 people this week, Reuters reports.
The attacks in Moscow and Dagestan have stoked fears that Islamist militants from the North Caucasus may launch a major bombing campaign against the Russian heartland.
Medvedev's comments - a day after bombers killed 12 people in attacks on a Dagestan town - marked a toughening of the Kremlin chief's rhetoric on how to deal with the insurgency.
'We must deal sharp dagger blows to the terrorists, destroy them and their lairs,' Medvedev was shown telling a meeting of security chiefs and regional leaders in Dagestan's capital Makhachkala.
'The list of measures to fight terrorism must be widened: (the measures) must not only be effective but tough, severe and preventative. We need to punish,' he said.
'We have ripped the heads off the most infamous bandits but it appears that this was not enough. We will track them all down in due time and will punish them all, just as we did to the previous ones. We will act only this way.'
The suicide bombings in Moscow and Dagestan follow a surge of violence in the Caucasus, a decade after the Kremlin fought the second of two wars against Chechen separatists.
Chechen rebels claimed responsibility on Wednesday for the Moscow metro bombings, which killed 39 people, and threatened further attacks against Russian cities.
Chechen rebel leader Doku Umarov said in a video posted on Islamist rebel website www.kavkazcenter.com he had ordered the Moscow attacks in revenge for Prime Minister Vladimir Putin's policies in the mainly-Muslim North Caucasus.
Putin, who cemented his power in 1999 by launching a war to crush Chechen separatism, has said the culprits behind the metro bombings must be scraped 'from the bottom of the sewers.'
Rights groups say Putin's policies in the North Caucasus while prime minister in 1999 and then president for eight years until 2008 have failed to deal with the root causes of the swiftly mutating Islamist insurgency.
Local leaders and residents say it is fuelled by poverty, clan rivalries, rampant corruption, Islamism and heavy-handed tactics by law enforcement agencies.
Medvedev last November warned that escalating strife in the region was Russia's most serious domestic political problem and has spoken about the need to fight poverty and corruption.
Medvedev's newly appointed envoy to the North Caucasus, Alexander Khloponin, said stability would be elusive until officials earned the support of local residents.
'We will never cope with this task if we do not have the full support of our residents,' said Khloponin, who as a deputy prime minister also reports to Putin.