We need Idea to Succeed in Life-Rev Ejete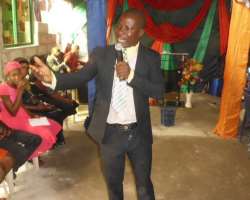 The General Overseer of Christ Faith Tabernacle Ministries Worldwide, Rev Festus Ejete recently preached this topic "Idea" as a New Year message to Nigerian Christians in Lagos.
The Creative Idealist cum Musician, Rev Festus Ejete told his ever listening congregation to have mental picture of their destinies this year and work out modalities to succeed in life. He read his scriptural verses from Genesis 39 and 40 where he said every Christian must be smart as Joseph did to free from the prison. It is sad that Christians are living in object poverty and the only way to succeed in life if you can live above failure. As a Christian you cannot remain a servant forever. Wealth is not meant for one person in life. Prayers alone cannot bring solution to your problem except you have a mental impression of your destiny in life.
He added that Christians must believe themselves in life and allow God to take control of their vision. You must endeavor to celebrate yourself than waiting for somebody to celebrate it for you.