BOKO HARAM, Baga and Nigeria's Federal Republic of Insecurity.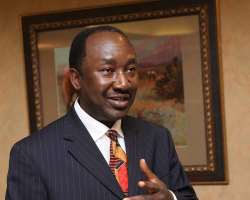 USAfrica, Houston: On Sunday night January 11, 2015, CNN International called me to provide some insights during a live interview on the Boko Haram menace and killings. Especially, at Baga. The bloodied Borno city of Baga. I did.
To understand the level of impunity and violation of the national security of Nigeria by the violent, terrorist radical Islamic group Boko Haram, you have to know about their horrendous massacre of more than 2,000 persons of all ages and gender in Baga.
Baga is near Lake Chad and had not been conquered by Boko until Friday January 9, 2015. Boko overwhelmed both the  local vigilantes and Nigeria's armed forces near and into Baga.... blood flowed like a river....
The other implications and points I wish to make are:
First, Boko Haram has turned Jonathan's Nigeria, with brazen impunity, into what I call Nigeria's Federal Republic of Insecurity. Borno and nearby areas have become Boko violent playgrounds, the capital territory of their medieval Caliphate. We cannot have two Commanders-in-Chief in one country: Abubakar Shekau and President Jonathan. For President Jonathan, again, stand firm and Be Nigeria's duly elected and only Commander-in-Chief; or.....
Second, for having the will and courage to resist the repeated onslaught of the Boko Haram, Baga has been used, hideously, to teach other towns/villages around Borno and Yobe who refuse and resist going under the dark banner of Boko Haram and ISIS that Nigeria's President Goodluck Jonathan and his armed forces remain incapable of protecting All Nigerians within its borders.
Third, beyond the issue of the serial incapacities of the Nigerian armed forces to tackle and defeat Boko, I'm concerned like most Nigerians that the Boko massacres in Baga and Boko's use of 10-year olds as bombs-explosives carriers into markets. Significantly, the killing of more than 2,000 human beings in one weekend has yet to draw any measurable international response or protests as we saw millions on January 11, 2015 in radical Islamists' embattled Paris. The world came together, stood together against terrorism and for freedom of expression.
Fourth, Nigerians and Nigeria's government should lead the way! Or do they consider their own as Children of a Lesser God?? Nigeria should emulate the way the French forces and intelligence network moved decisively and killed the terrorists... without forming some committees or bogged down by sentiments.
Fifth, as the year 2015 opens, a recurring concern for Nigerians, Americans and the international communities remain: are we safe going about our every day lives or investing to do business in most parts of northeastern Nigeria? The honest answer is No! Daily, hourly, Nigerians say their quiet prayers in Maiduguri, Kano, Baga, Damaturu, Yobe, Jos etc asking for one of the following: may the evil eyes and bazooka of Boko Haram and kidnappers not see them! May the lethal bombs of the violent agitators of Boko Haram and political thugs others never set their gps in the same zone... Amen!
Sixth, ahead of the February 2015 election and amidst all the palaver, Nigerians continue to wonder if their federal state of insecurity would continue, despite the fact of a whopping federal government budget with the security and defense allocation bagging since 2012, annually, the lion's share of an average of N925 billion (Naira) -- the equivalent of $6 billion. Those have not given Nigerians reasonable "security" from kidnappers, common criminals, terror brigands, radical fundamentalists like the brazen Boko Haram and a rag-tag ethnic armies, area boys and area girls, and so on and so forth.
Seventh, Nigerians, from all sections and faiths and economic status, have expressed their displeasure at the evident incapacity of the federal government led by President Jonathan and most state governors to perform the most basic function of providing security and safe environments for the citizens. The unrelenting bombs and violent attacks and kidnapping in the middle belt Plateau State and in Maiduguri/Borno State, have combined to make life and movement much more dangerous for families, millions of unemployed youths and investors in Africa's most populated country of almost 110 million people.
Eight, I believe and have made the political economy point that lawlessness and insecurity affect domestic production and international business worthiness of any country. The very bold attacks on the Nigerian Police headquarters and the United Nations building in Abuja (Nigeria's federal capital) on Friday August 26, 2011 by the radical Islamic group Boko Haram left a weak profile of the President Jonathan and his team -- in the eyes of the local and international communities. I wrote the USAfrica special report 14 years ago-- on October 17, 2001 -- warning that some radical Islamic groups in Nigeria have some level of inspiration and informal links to international terror organizations. Nigeria's bin-Laden cheerleaders could ignite religious war, destabilize Africa. http://www.usafricaonline.com/chido.binladennigeria.html
Finally, if any of the President's 100 advisers has the polite courage for the extraordinary task of reminding His Excellency of his foremost, sworn, constitutional obligation to the national interest about security and safety of Nigerians and all who sojourn in Nigeria, please whisper clearly to Mr. President that I said, respectfully: Nigerians, at home and abroad, are still concerned and afraid for living in what I call Nigeria's Federal Republic of Insecurity! Nigeria, we hail thee.... •Dr. Chido Nwangwu, Founder & Publisher of USAfrica multimedia networks since 1992, first African-owned, U.S-based newspaper published on the internet USAfricaonline.com; served as adviser to Houston's ex Mayor on Africa business and recipient of several journalism and public policy awards, has been profiled by the CNN International for his pioneering works on multimedia/news/public policy projects for Africans and Americans. http://edition.cnn.com/video/#/video/international/2010/07/29/mpa.african.media.bk.a.cnn
VIDEO #CNN special #CHIBOK Girls n #BokoHaram Live intvw wt the Founder of USAfrica multimedia and public policy networks Chido Nwangwu. CNN anchors John Berman n Michaela Pereira.
Disclaimer:

"The views/contents expressed in this article are the sole responsibility of the author(s) and do not necessarily reflect those of The Nigerian Voice. The Nigerian Voice will not be responsible or liable for any inaccurate or incorrect statements contained in this article."
Articles by Chido Nwangwu