Psquare, Jim Iyke, Kate Henshaw, others turn street dancers!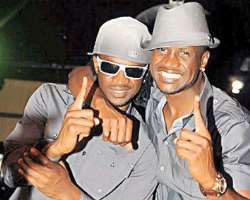 In the spirit of the carnival, celebrities including the duo of Peter and Paul Okoye (a.k.a Psquare), Kate Henshaw, Jim Iyke, Angela Okorie and others, who were the guests of governor Liyel Imoke suddenly threw caution to the wind and let loosed on the street.
Particularly, the singing twins could not hold back their excitements, listening to their newly released songs, Collabo, Ft Don Jazzy, and Shekini, from their 6th album, Double Trouble, blaring from the loud speakers as the carnival train moved on.
Unable to hold back, the singing duo who dressed like pirates with their swords hit the street to do what they know how to do best. They grabbed the microphone and started enteraining the fun seekers, singing and dancing to their enjoyment.
Soon, Kate Henshaw, who wore a mini gown with tail; a hat with feathers and boots, and Angela Okorie, joined them and heaven was let loose as they displayed electrifying dance steps typical of Psquare's. While the show lasted on the street, the crowd went into frenzy as they harried, screamed, outdid themselves and fell over one another to touch and have a glimpse of their favourite stars. Vanguard