Boxing Day Surprise: Patoranking Reveals Son's Identity?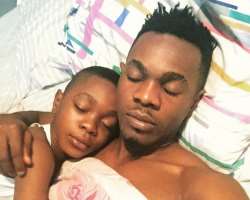 Who could have believed that Nigeria's Reggea-dancehall singer, Patoranking, has a son with such striking resemblance? Or could that be his blood brother?
Patoranking who's real name is Patrick Nnaemeka Okorie posted a picture on his Instagram page with the caption," Good morning world..See who I found besides me. RAPHARANKING #Happuday #Whayasay #FS2015."
Since he shared the picture his comments box has been booming with lots of opinions from his diverse fans and close friends.
While some believed that the boy in question is his own flesh and blood, others argued that he is his younger brother.
In the midst of the frenzy, the Ebonyi State born 'Girlie O' crooner, is yet to come to the rescue to confirm the identity of his replica sleeping besides him.